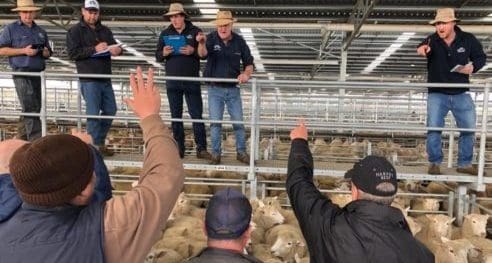 PROCESSOR demand for lambs rebounded at Victoria's largest multi-species livestock selling facility yesterday just a day after National Cabinet endorsed relaxed work rules for close contacts of COVID cases.
Lamb prices rebounded at Ballarat's Central Victoria Livestock Exchange on Tuesday and this trend was repeated at the Hamilton selling centre and at Yass in New South Wales today as more processors became active.
Lamb supplies are also expected to be impacted by producers withholding lambs to run on after recent rain boosted Summer crops.
Under the rule changes endorsed by the Australian Health Protection Principal Committee and approved by National Cabinet, asymptomatic workers who are close contacts of positive COVID cases but test negative can return to work.
The changes for Victorian workers in the manufacturing, distribution or packaging of food and beverages including retail supermarket workers are due to come into force from 11.59pm today, "if it is necessary for continuity of operations and other options have been exhausted."
However, workers must return negative test results from daily Rapid Antigen Tests for five days to continue working and the Australian Meat Industry Council is still reporting a critical shortage of RATs. RAT supplies varying between plants and works in Victoria and New South Wales are the most-affected.
AMIC processor members are reporting significant RAT shortages and without ample availability of RATs they cannot take full advantage of changes in close contact worker rules.
Ballarat lamb market makes 'full correction'
Charles Stewart Agent Jamie McConachy said lamb prices at Ballarat's Central Victoria Livestock Exchange on Tuesday made a "full correction" in sheep and lambs from the price drops of last week.
"The market has basically picked up all of last week's losses across most grades of lambs.
"It was a very erratic market last week and there were some huge downside."
Mr McConachy said lamb prices were basically $20-$30 dear at Ballarat on Tuesday.
"But it could have quite easily have been much dearer than that, because last week we had falls in some places of $40-$50."
Processor demand and stock prices at saleyards had slumped as meat works battled to retain staff levels to keep slaughter chains operating at capacity as increasing Omicron COVID variant cases forced many workers and close contacts into self-isolation. Some companies had closed beef and mutton chains to focus on lamb processing, while severely affected works have contracted kill space in less-affected plants to boost production levels.
The situation had raised the spectre of domestic meat shortages and was undermining the ability of processors to meet overseas orders for lamb and mutton and other meats.
Mr McConachy said with the processors' COVID-affected staffing issues there was a great deal of uncertainty around the first sale of the New Year last week. But at Tuesday's market, the processors "seemed to have a greater leap to their step."
"They were all focussing again on buying lambs.
"It may not be at full tilt, but they were all back focussing on buying, whereas last week there were quite a few sitting on the fence," he said.
"Today was pleasing, you could basically say it has gained $30 across all grades – store lambs, heavy lambs, heavy trade lambs.
"The least-affected were good trade lambs, which last week stood up as well as anything, so therefore their gains today (Tuesday) were only minimal."
The light mutton market "fell apart" last week and could have been $30 cheaper last week, but this was regained yesterday, he said.
Click here to read summaries of the NLRS Ballarat, Hamilton and Yass market reports.
Processor staffing levels to depend on Omicron infection cycle
One major eastern states lamb processor welcomed the unified close contact rule change across all states.
"The industry has had to do something or we would not have had anyone at work.
"We just hope that this might be the turning point to enable some people to be able to some to work."
The processor said over the past week most companies had been dropping 30-50pc of their production capacity which limited competition at saleyards, especially from those with contracted lamb consignments.
"The sooner we can get back to at least 80pc of our throughput the sooner we can re-enter the market.
"Only time will tell whether some of these people who were out last week can start coming back," he said.
However, the actual effective staffing levels, will depend on the rate of positive Omicron cases.
"You might have 50 people come back through one door, but you could have 45 heading out the next door.
"So it looks for the next month or six weeks you are probably going to get a rolling turnover of workers) until this thing peaks and starts to decline," he said.
The processor said the 2021 year-on-year slaughter figure was already slightly lower and a COVID workforce disruption of six to eight weeks now would cause a significant backup of livestock, which could take the sector March and April to work through.
"We've got our global customers who we have obligations to and are having difficulty getting the quantities they require – so it is right along the supply chain from our primary producers to our end consumer; everyone is in a difficult position.
"It's a disruption right through the supply chain; it's more so those retailers who rely on Australian processors to be able to fulfil their commitments," he said.
"So do they potentially look elsewhere or do they substitute lamb with other proteins?"
The processor said the rule change is timely as the industry runs into the shorn lamb turnoff period and after that the May-June period, when early 2021 drops lambs will be "breaking" teeth and fall outside the lamb definition.
He said "the only bright light" in the situation is that most producers have available feed and grain to run lambs on for later marketing.
So could Australia's COVID-affected workforce capacity lead to lamb market loss?
Global AgriTrends analyst Simon Quilty said the industry with its national workforce COVID difficulties is in a different to the situation last year, when a lamb price crash failed to materialise as a result of enforced Victorian metropolitan processor workforce restrictions because of historically low supplies.
"Once again part of the challenge is that (lamb) numbers are still down compared to three years ago, so people are chasing lamb because there is not an abundance of volume.
"So you've got to look at the overall supply availability and say that we are down significantly on three years ago and that the biggest issue will happen during peak production in terms of capacity."
Mr Quilty said New Zealand produced about 18.1 million lambs and this year will produce about 18.4 million head.
"They believe the supply or kill curve will flatten this year.
"Right now they are probably down 10 percent in capacity, but their expectation is that during their peak in February or March the curve might flatten by about 20pc," he said.
"The curve will flatten and there will be a longer drawn out season and I think we could well say it will probably be a similar deal in Australia, where the season will be extended and the ability to slaughter or reach full capacity will be removed from us.
"But I think in Australia we do also have the luxury of grain-feeding lambs so naturally we are flattening the curve anyway," Mr Quilty said.
"So I'm still of the opinion that lamb prices will probably still remain firm.
"I think what will happen is because of the limited kill across Australia and New Zealand, where 80pc of the world's lamb comes from, will ensure that global lamb prices remain really firm," he said.
"I think what we've learned about lamb, in terms of its global demand, is that rather than being a supply driven market, it is now a demand-driven market.
"That is what is different this year versus 10 years ago," Mr Quilty said.
"Processors love a supply-driven market because they could buy under the market, but today there are simply not enough lambs in the world to meet the needs of the consumer."
Mr Quilty agreed that lamb wholesalers could not source sufficient quantities outside of Australia and New Zealand to meet current demand.
"It would be different if New Zealand had an oversupply problem and we had an undersupply problem … but we are both experiencing the same problem.
"To a certain extent Australia's (supply problem) is a little bit more intense, but they simply don't have enough lamb to meet their own needs as well."
Mr Quilty said the industry's staffing issues are being compounded by the latest skilled labour visa figures being down 37pc since the first quarter of 2019.
He said the Ag Visa program promised by the government is "slow" and the expectation of the first plane load before Christmas has not been achieved.
"That's now been pushed back by three months, so in reality it is going to be much further back.
"I think if we get this Ag Visa program running properly by the end of this year, then we are doing well," he said.
"The government has promised that this would be up and running by March this year and I simply can't see that happening."
Union action has been blamed for the reluctance of some participating countries, but Mr Quilty said the government had not yet settled on which four countries it will form agreements with.
He believes part of the problems relate to publicity around Australia's treatment of past visa workers.
Issue of RATS is critical – AMIC
AMIC chief executive officer Patrick Hutchinson said the council welcomed National Cabinet's endorsement of the new arrangements, allowing workers who are close contacts to return to work if they have no symptoms and are fully vaccinated.
"This is a great outcome to support Australia's food production and supply chain capacity and to feed Australians.
"I thank our representatives in State and Federal Government for listening, consulting with us and responding to our concerns with this action," he said.
"AMIC will work with its meat processing and manufacturing members on the implementation of the new guidelines and relevant state-based rules.
"The issue of access to free or low-cost RATs for our industry which is deemed critical, and prioritised PCR testing and turnarounds, remains a challenge to be addressed by government, and we will be continuing discussions on this," Mr Hutchinson said.