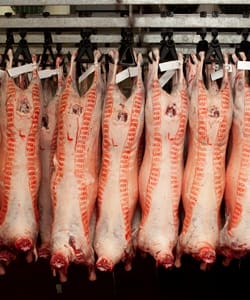 NATIONAL lamb carcase weights reached record highs in the last financial year, the release of Australian Bureau of Statistics data has revealed.
Meat & Livestock Australia's market information manager Stephen Bignell said lamb slaughter for Q2 in FY2022 was recorded at 5.44 million, an increase of 9.5 percent on the previous quarter and 1.1pc higher than the June 2021 quarter.
For the full financial year, lamb slaughter nationally stood at 20.8m lambs.
"The fact that lamb slaughter for Q2 2022 (October to December 2021) was not within in the historical top 20 lamb slaughter volumes, but was the third highest level of production, shows the benefits of increasing carcase weights," he said.
"The implementation of new genetics, well managed on-farm production and above average rainfall patterns have ensured national lamb carcase weights achieved record highs in Q2 2022.
At 25.8kg/head, this was a 0.6pc increase year-on-year levels, demonstrating that genetic improvement and management is driving increased efficiencies and production for the national lamb flock," Mr Bignell said.
New South Wales lambs weighed 26.8kg/head on average, leading the trend for heavier lambs nationally, followed by South Australian lambs at 26.7kg/head.
The value of lambs and sheep slaughtered in FY2022 was $5.13 billion, 14.5pc above the value of sheep and lambs slaughtered in FY2021.
The second quarter in FY2022 (October to December 2021) recorded the highest value of sheep and slaughtered ever, MLA said. The average price for a finished lamb/sheep in FY22 was $189.39, up 10.5pc on 2021.
Lamb production fell in late 2022
In Q2 of 2022, lamb production was 140,165 tonnes, the third highest quarterly volume on record, behind Q2 2018 and Q4 2016. The quarterly total of 140,165 tonnes was a 12.5pc increase on Q1 2022 levels and 1.8pc higher than the same quarter in 2021, MLA said.
Sheep slaughter fell
MLA said unlike lambs and cattle, sheep slaughter fell in Q2 2022, reducing by 13.2pc or 209,600 head. However, according to Mr Bignell, a drop in slaughter in the June quarter is common as producers are retaining ewes for lambing during this period.
"Encouragingly, when compared to the corresponding June period in 2021, mutton slaughter is up 27pc or close to 300,000 head.
"This would suggest the flock rebuild is maturing and in line with MLA's most recent June sheep projections," he said.
MLA said production of mutton was recorded at 35,091 tonnes in Q2 2022, a 11.3pc reduction on the previous quarter, but 25pc higher than 2021 levels. As mutton production fell by less than the fall in slaughter, carcase weights climbed, MLA said.
NSW sheep are the heaviest
National sheep carcase weights for Q2 2022 were recorded at 25.5kg/head, a 500g increase on Q1 2022 levels, but well below the 2.2kg/head below the highs recorded in December 2021.
"Interestingly, the average carcase weights for sheep are below that of lambs on a national level.
"Sheep in New South Wales are the heaviest weighting 27.3kg, while sheep in Tasmania are the lightest weighing 19.5kg/head," Mr Bignell said.
Source: MLA.