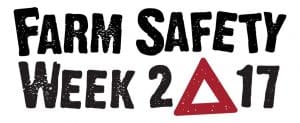 A ZERO farm fatality target has been proposed by the Victorian Farmers Federation with the start of Farm Safety Week today.
Victorian Farmers Federation president David Jochinke joined with the National Farmers Federation in stating that any life lost due to a farming accident is "one too many."
The VFF will soon employ a Farm Safety Officer as part of its zero fatality target, who will deliver practical training to members about farm safety, health and wellbeing.
Farm Safety Week from July 17-24 aimed to remind primary producers of the importance of maintaining secure workplace practices. The farmer group is pushing the agriculture industry to double its efforts in achieving a zero fatality target on farm.
The National Farmers Federation and Farmsafe Australia said the number of people losing their lives from on-farm incidents has significantly decreased in the past 25 years but there is more work to be done to make farms safer.
Farmsafe Australia Chair and NFF's Workplace Committee Chair, Charles Armstrong said the yearly average of lives lost from farm incidents had decreased from 146 in 1991 to 63 in 2016.
SafeWork Australia recorded 20 workplace deaths on Australian farms in the period from January to June and Mr Jochinke said the number of deaths caused by accidents should be addressed.
"This is plainly unacceptable and the whole industry needs to get serious about implementing a zero fatality target.
"All it takes is a few minutes to check that equipment is safe to use, or that best practice methods are being followed," Mr Jochinke said.
Worksafe Victoria statistics show nearly 30 percent of workplace deaths across Victoria occur on farms, despite 3pc of workers being employed in the agriculture industry.
Mr Jochinke said it was vital for all farmers to prepare themselves for potential emergencies.
"We need to constantly remind ourselves that if we're not careful, we will get hurt. You need to keep a well-stocked first aid kit wherever you're working and if you work alone, make a plan on how you will seek help in an emergency.
"It's also vital to consider safe working conditions when children are involved," he said.
"I joined my dad on the farm and most farmers teach their children the ropes of running the family business, but children on farms are high-risk.
"We need to show our children what a safe farm looks like," Mr Jochinke said.
The VFF has been using a series of forums to connect with its membership about the importance of farm safety and has also compiled a list of seven tips to guide farmers in keeping a safe workplace.
"We want to engage with farmers to raise awareness for safety procedures so that you can them better manage your obligations," Mr Jochinke said.
"Remember, farm safety is something that affects everyone.
"We all need to our part to ensure we maintain a safe environment not just for ourselves, but for those around us," he said.
Take steps to improve farm safety
Mr Armstrong said the yearly average of lives lost from farm incidents had decreased from 146 in 1991 to 63 in 2016.
"However, one life lost is one too many, and we must all take greater responsibility for improving the safety of our farms.
"Already, as of 30 June, we have seen 32 tragic deaths resulting from injuries sustained in quad bike and farm machinery incidents*."
"We must act now to turn these statistics around."
Mr Armstrong said the theme of Farm Safety Week 2017 was 'creating a resilient, safe and healthy ag community'.
"Having safety as a major aspect of the farm business will not only reduce risks to those who work and live on our farms, it will also improve our bottom line and create a resilient, safe and healthy ag community."
Practical steps that farmers can take to improve safety include:
Develop a safety plan that identifies potential hazards and taking specific actions to fix these.
Always be on the look-out for new hazards and fixing these as soon as possible once identified.
Set clear safety procedures for risky work.
Ensure everyone that works on the farm understands and uses the safety procedures you have for your farm.
Develop and communicate an emergency plan in case of any incidents.
As a matter of urgency, fit a crush protection device to quad bikes and always wear a helmet.
Further information can be found at www.farmsafe.org.au or by contacting Farmsafe Australia on (02) 6269 5622 or your state Farmsafe group.
Sources: VFF, NFF.