HAVE we become our own worst enemy? With sheep trading confidence very low the lamb processors are wearing a flood of supply. However, this run of numbers has a direct impact on price. We must remember processors want quality supply all year round, not a million in three weeks – especially 'slippery' half-finished stock.
I caught up with Brett McKenna, Midfield Meats, Warrnambool at the Jamestown sheep sale between pens. His father Colin, Chris Thomas from TFI and a cast of other identities helped me as a young agent buying on property and as auctioneer at Gepps Cross and regional store sheep sales. I can guarantee it wasn't a free ride, but it did help build a resilience and a thick skin for when the job gets tough. Brett and I agreed the old methods of relationships and forward thinking still work in the livestock game.
Most of the Autumn drop lambs are gone now, but we are seeing a raft of Spring drops with plenty of time till teeth being sold under-done. This is perpetuating the flood of lambs at a time we normally don't see. Speaking to Geoff Rice at AWN Langlands Hanlon, Parkes, he said "there are very few lambs out on the river flats around Forbes and Parkes, yet it seems many producers are caught up in the current pricing and dumping lambs.
"Some lambs are only three weeks away with some supplementary feeding that would provide a positive $50 plus return on quality alone. Many Merinos are being sold in the wool at a discount. These would make much more money by shearing and turning into hoggets than selling for $80."
Alex Collins from McKean McGregor Bendigo said last week's sale reflected much the same. Well-finished heavy lambs are still selling ok between $180-$225, but there is a massive discount for the 1000s of unfinished trade lambs being punched into the market. Many are very well-bred and very well-presented, but have been sold off pasture without being finished. In turn, this is impacting hooks pricing and available kill space, he said. Henry Bugge from the same company was watching some Merino lambs they purchased for $15 then shorn and resold. The result was $85-$90 and I would consider that is not a bad outcome in a market that many consider poor.
Little sheep project – I have been banging on about the opportunities for scanned in lamb ewes. With some feed available on my place, I have brought a hat full (91) of scanned in-lamb 3 and 4 years old January shorn Merino ewes due to start lambing to White Suffolk rams on 23 June. I have decided to be proactive and practice what I preach by following the progress each month in this article and listen to my livestock advisor. I won't name him at this time in case I stuff something up.
In an exercise like this, I figure it is easy to change the numbers at the end, but it is bloody hard to do that if I tell you as we go along.
So here is the starting point. 91 SIL ewes with scanning of 66pc multiples and 34pc singles @ $150 with a body condition score of 3 and an average AuctionsPlus weight of 67.8kg. Transport has cost me $9, worm vaccination $2 per head with a lambing dry lick at 12pc magnesium put out (add the cost later). They are on good pasture consisting of natives, phalaris and clovers, and a 40 year-old .222 rifle for foxes. Let's see what happens from here.
BestWool/BestLamb conference at Bendigo is on 20 June. This event has been running for 25 years and I have been asked to speak about 'Agents of the future – Relationships that create value'. There are some very good speakers attending as well.
A positive attitude is important now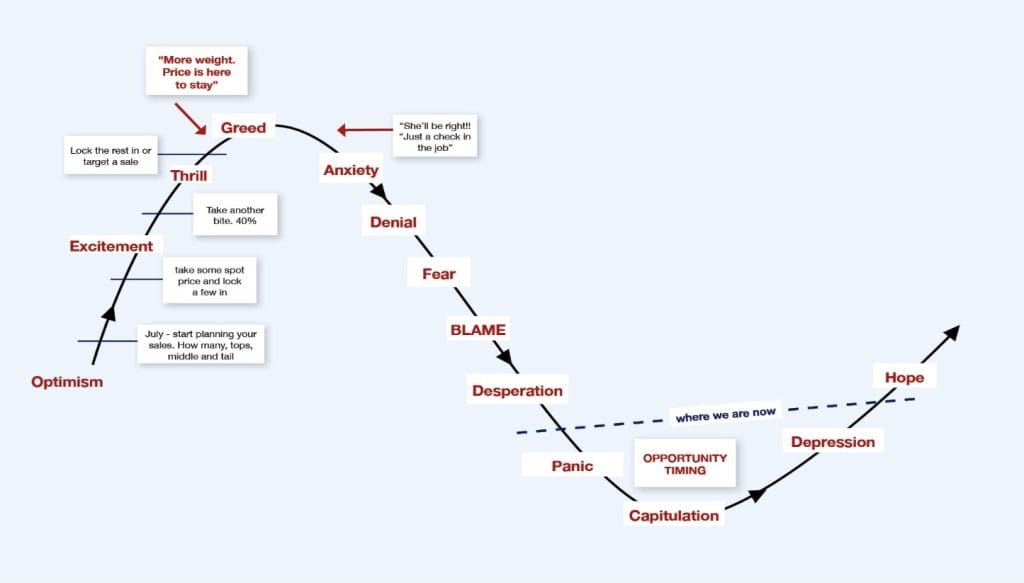 Ben Crow is Ash Barty's mindset coach and one piece of his advice I really like is: "Don't let your environment determine your attitude, you are 100 percent in control of your attitude."
The importance of understanding the emotional cycle of livestock prices is never more important than now. Negativity breeds more negativity and taking the time to understand the natural flow of the supply and demand cycle may help some of you in the future with planning, taking opportunities and how you view what is happening.
AuctionsPlus. I have noticed agents putting realistic reserves on cattle and sheep lots seem to be still selling stock. However, lots of vendors listing both species at reserve prices that reflect "what I am hoping for" or "what I need to get out of them" are struggling to get a bid. In the current market, realistic reserves and phone calls are the tools that will create activity, because many buyers on AuctionsPlus have become screen tired from looking at lots that are overpriced.
Prices – There is a lot of commentary about prices at present and trying to work out why the market has done what it has done – work force, international markets, Ukraine or foreign exchange. The simple two-word explanation for sheep, lambs and cattle is 'supply glut', that we haven't seen for a while.
 Three good years with producers holding numbers as well as extras in case of another good year.
 The wet finish last year interrupting feeding performance and weight gain
 Price dip causing many to hold on to add more weight and cover the purchase price.
This is where we need to become smarter. Many have been caught by the size of the price correction completely removing a weight gain benefit.
It is always darkest before the dawn, and I think June and July will help shake off numbers in the south and the end of August for cattle in the north. When prices are low it is easy to suggest it is where they will stay forever but this is rarely the case.
Well done to Mort & Co for giving us a mid-year Australia day message for beef from our mate Sam Kekovich. Have a quick look at this video for a laugh.
Mixed messaging on cattle pricing
We seem to be in a period of mixed messaging with cattle pricing at present. Store sales seem to be quite erratic with prices easing until late May. Yet some sales at the end of May at Gundagai and Barnawartha suggested we are seeing an improvement on prices for better steers and a definite lift on heifers of circa $120. We are also seeing excess inventory numbers of older cows that were held on top of normal numbers being sold because we haven't had another boomer start like the last three years. Feed has become tight in some larger cattle breeding and trading areas as well as the normal Queensland sale period.
Slaughter rates are under supply pressure and it is very easy to become caught up in the negativity around price and what the job will do. Much the same as for lambs, I think slaughter prices will show some positive movement in the south, but as I have said before not until July. Looking at all the drivers, over supply is pretty much the fly in the soup.
The US job is on fire and the bulk release of Brazilian meat that has softened 90cl pricing should work out over the next three weeks as the 26pc tariff is activated. This is not new in the US and we probably need to factor this approach by Brazil into price impact at the start of each quota period. The Australian dollar exchange rate has also softened considerably, that in turn makes Australia beef more attractive internationally.
I attended the Naracoorte store sale and caught up with Brooke Green from Thomas DeGaris & Clarkson at Penola. She said larger, quality lines of 350-425kg steers remained relatively firm on last sale with good competition from lot feeders TFI, Princess Royal, Teys, Hopkins River and Mildura. Lighter steers and heifers received solid competition from local graziers and back grounders with 280-350 kg steers ranging from $3.50-$4.40/kg lwt and heifers $3.25-$3.60/kg. As with all areas, the unfinished heavy cattle and lighter secondary lines are taking a hit on price with many trading between $2.60-$3.20/kg.
Nick Harton, livestock sales manager with Jim Hindmarsh and Co at Braidwood said the sale at Yass last week was back on the previous fortnight.
"Better pens of Angus steers would not have been that far behind but the bits and pieces were definitely cheaper."
Heading north for a change, I called Brent Williams, Nutrien branch manager in Charter Towers. The first time I met Brent was a trainee interview where he was working at the Charleton feedlot in Victoria as a stockman. It just shows how diverse our industry is when it comes to career paths.
Brent reported the prolonged wet season has seen reduced numbers being offered due to graziers holding cattle to maximise weight gains as well as an easing market over the last few weeks. An export order for Vietnam is open with bullock pricing at $2.75-$2.77/kg and bulls $2.75/kg. There are some isolated Indonesian orders for 280-380kg steers @ $3/kg and heifers @ $2.60-$2.70/kg.
Mick Newman at Elders in Alice Springs called about the upcoming Alice Springs show cattle sale. It is very easy in the current market to ignore this sale, but those that make the effort will probably buy well-bred cattle worth the money.
If you can't go it is very simple to put an order in place, especially with face time or video to see the cattle in the pens.
Following on with the same shirt colour, Cameron Wilson at Elders Livestock in Brisbane said hay and straw is becoming very difficult to find in southern Queensland and north-west New South Wales for feed lots and fodder. If any have hay for sale make it known with a feed test and weight to get the best result for all parties.
Across to the Kimberly, I spoke to Phil Petrecovich, AWN WA livestock manager and Gerald Wetherall, general manager, livestock for Westcoast Wool and Livestock. Both indicated the opening of roads in the Kimberly and the excellent feed will see well-conditioned cattle coming out in the near future. This in turn will provide WA and eastern processors with slaughter opportunity without need to background in the south.
Simone Dand, agency and supply chain training coordinator at Wodonga TAFE advised me the next intake is now open with the workshop commencing 6 August. Simone mentioned the renewed focus by the federal government on skills-based training has been very positive and looks as though this will directly benefit the end result for participants and employers.
New agents from all states and companies attend this training and the offer is also open to processors and financiers to send staff along to learn the operational business aspects of the livestock industry. Included in the Certificate 4 or workshop only course is the opportunity to gain AuctionsPlus accreditation as part of the fee.
An added bonus is the decision by independent agency marketing company RMA Network to pay for 50pc of the fee for any member participants on completion. Recent enquiry from several large end user companies about the opportunity to meet the group when together has shown this training is being recognised across the supply chain. Further information call Simone on 0455 240 307.
Stud safeguard. I grabbed this from 12 months ago and wondered if anyone did anything? The threat has not diminished but it has dropped out of the media.
For the stud community, I strongly suggested collecting eggs, embryos and semen from your operation and putting it into storage. To have your life's work disappear because of any form of outbreak is too hard to comprehend for many. It is important to know if your enterprise is captured within a containment circle there is no room for negotiation about the breeding value as industry will follow the cull protocols to eliminate the outbreak risk.
EYCI – I did have a little chuckle. It seems when the EYCI is going down there doesn't seem to be the same amount of importance placed on it as when it is going up. Like any indicator it is a tool to create an opinion on what you might do. Remember all the various graphs are retrospective and only telling you what happened yesterday unless put in context.
StockCo graphs will be back next month – I blew my spread sheet up by putting kerosine in my new computer.
Average Steer and Heifer price this month, all breeds, all states: Steers $1271 @ 347kg Heifers $1147 306kg.
Average background ewe and lamb, all breeds, all states ewes $142 58kg Lambs $108 29kg
Opportunities
 Continue to train – when the job is tough it is more important than ever.
 Merino lambs – so much opportunity
 Heifers – improve by lot feeding, joined or hooked – not a lot of money
 Look after your ewes and cows, get some advice on what to do – every lamb or calf that survives is extra in the kitty. Sometime spending a little makes a lot.
 Look at the opportunity in your lambs. Spend $30 on supplementary feeding to finish them off and create a quality article for July sale.