An Australian team of young meat judges has returned home this week with an impressive list of prizes following an intense four-week tour of the United States where they took part in major meat judging competitions.
The national team was hand-selected from the largest meat judging program in the 25-year history of the Inter-Collegiate Meat Judging (ICMJ) movement.
Hauling home some impressive prizes were Clara Collison from University of New England, Hannah Marshall of the University of Adelaide, Ella Mazoudier from Tocal Agricultural College, and Tim Morley-Sattler and Meg Parsons both from Charles Sturt University Wagga Wagga.
Throughout the past month, the team competed in three meat judging contests against US college undergraduates, judging lamb beef and pork carcases.
With some intense training sessions under their belt, team members placed first in a number of individual categories including beef and pork judging at the National Western in Denver, Colorado, where the team placed fourth overall.
The South Western competition in Fort Worth, Texas presented a challenging contest, with high quality Wagyu carcases used for judging. The Aussie team managed to place fourth overall, against tough opposition.
Individual award highlights included Clara Collison's second overall place at the National Western competition, beaten by only 21 points (out of a possible 1000) for first.
In the same contest, Clara was placed first in lamb judging and placings categories, while Tim Morley–Sattler finished second in beef judging.
Other notable awards went to Hannah Marshall, who secured third place in pork judging at Fort Worth and Ella Mazoudier, eighth overall in the alternates section at the Denver contest. Meg Parsons finished in fourth place in beef judging at the Texas Tech invitational contest, just two days after arriving in the US.
Australian coach, Emma Hegarty said the team was one of the most dedicated she has seen since she has been involved in the annual US visit.
"I was extremely proud of the team this year. They trained so hard from the minute we got off the plane. Some days they would be training in chillers for up to eight hours, and the hard work results paid off with results," she said.
The primary focus of the trip is to provide a unique insight into the US meat and livestock industry, complementing the Australian tour carried out in September.
Paddock to plate learning experience
The team covered nearly 10,000km across six states during their US visit.
The paddock-to-plate tour included meat science faculties of seven major universities, beef, pork and lamb processing plant tours, including the three major US packers – JBS, Tyson and Cargill and organizations such Global Animal Products in Amarillo.
A new inclusion to the trip this year was a calf ranch in Kansas showcasing their feeder backgrounding system for up to 50,000 calves.
The ranch visit was organised by Garden City College, the US team that visited Australia to take part in our own meat judging program last year.
"The networks we are forming between our Australian ICMJ contest and US universities is making this trip better every year," Emma said. "Each year we discover a whole new range of industry places to visit, solely because of the great relationships meat judging has created."
Demi Lollback of Meat & Livestock Australia, will take over as head coach from Emma next year.
Team member Hannah Marshall summed up the experiences of her team-mates when she said: "I cannot believe how privileged I have been to be able to represent my country internationally, meet so many amazing people, tour what is truly a beautiful country and most importantly make some of the best friends I will ever have."
Reports from each student on an industry relevant topic, from their US tour research will be made available at www.icmj.com.au during March.
The Australian team will be guests at the 2015 Australian Intercollegiate Meat Judging program to be held in Wagga Wagga on July 7 to 12, inspiring the next intake of meat judging enthusiasts.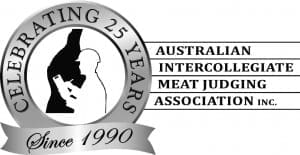 Meat & Livestock Australia and the Australian Meat Processors Corporation continue to be the major sponsors of the Australian team.