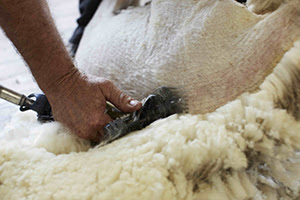 NEW Zealand will host three world shearing record attempt in eight days next month.
The attempts in the country's North Island have been confirmed with the World Sheep Shearing Records Society, WSSRS secretary Hugh McCarroll has announced.
The first will be at Te Hape B, east of State Highway 30 King Country township Benneydale, on January 10 when Cole L'Huillier, of Te Akau, and Kelvin Walker, of Pio Pio will tackle the two-stand eight-hour strongwool ewes record of 1066 which was set in January 2011 by Hawke's Bay-based shearer Rowland Smith, and his brother Doug, from Northland.
The following day at Moketenui, Mangapehi, west of Benneydale, two Welsh shearers will be among a trio challenging the three-stand eight-hour lamb record of 1784 held by King Country shearers Digger Balme, Roger Neil and Dean Ball for 18 years. South Wales shearer Matthew Evans will arrive this week to begin preparing with Te Kuiti-based Delwyn Jones, who has lived in New Zealand about 10 years, and the third shearer, Ryan Miller, from Gore, who recently returned from Australia.
The third record attempt will be on January 17 at Waitara Station, north of Napier-Taupo locality Te Pohue, where Eru Weeds, from Ohai, in Southland, James Mack, from Weber, southern Hawke's Bay, and Luke Mullins, of Taihape, will attempt the three-stand eight-hour ewe record of 1347, set by Hawke's Bay shearers Shelford Wilcox, Kaylin Chrystal and Errol Chrystal on December 22 last year.
L'Huillier has been previously in the records books as one of five who set a since-broken five-stand lamb shearing record near Kawakawa Bay, east of Clevedon, in December 2013. Weeds and Mack are current holders of a four-stand lambs record set in Southland in 2012.
The last world shearing record attempts were the historic raid on the glamour marks in the United Kingdom in July, when the Smiths' brother, Matthew Smith, shore a nine solo nine-hour record of 731 ewes and Irish shearer Ivan Scott beat the solo nine-hour lamb record with a new tally of 867.
Source: Shearing Sports New Zealand.