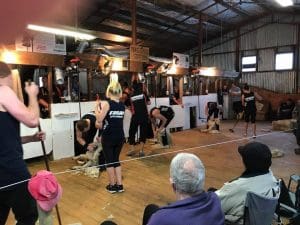 NEW shearing records were set in two separate attempts in New Zealand this week, setting new two-stand marks for strongwool lambs and ewes.
On January 10, a crowd packed into a King Country woolshed had to wait till the last moments of a 480-minutes day before seeing a world ewe-shearing record broken by just two sheep.
Shearing at Te Hape, east of Benneydale on State Highway 30 between Te Kuiti and Taupo, Coel L'Huillier, of Te Akau, and Kelvin Walker, of Taumarunui, shore 1068 to beat the two-stand eight-hours strongwool ewes record of 1066.
The previous record was set by brothers Rowland and Doug Smith on January 11, 2011 at Waitara Station, north of Napier-Taupo highway landmark Te Pohue.
L'Huillier, who in 2013 helped set a five-stand lamb shearing record, shore successive two-hour runs of 134, 133, 135 and 135 for a total of 537, while record-attempt newcomer Walker shore 134, 130, 133 and 134 for a total of 531.
The new ewe record preceded a successful attempt on the two-stand eight hour strongwool lamb shearing record by Welsh men, Te Kuiti-based Delwyn Jones and Matthew Evans yesterday, to become the first shearers from their country to break a world shearing record in New Zealand.
The pair arrived in New Zealand last month to prepare for the record bid, joined Ryan Miller, from Gore, in breaking the three-stand eight hours record for strongwool lambs.
Shearing at Mangapehi, off State Highway 30 between Te Kuiti and Benneydale, they shore 1825, adding 41 to the old record, previously set at 1784 which was shorn by King Country shearers Digger Balmer, Roger Neil and Dean Ball 18 years ago.
The record bid of four two-hour runs began at 7am and ended at 5pm, with all three achieving the milestone of 600 lambs, despite five lambs being rejected by the World Sheep Shearing Records Society judges during the day.
Evans, from Swansea, topped the tallies with runs of 156, 154, 151 and 153 for a total of 614, Miller had runs of 157, 152, 149 and 151 for a total of 609, and Jones, from Corwen, shore 602 with runs of 150, 151, 150 and 151.
Needing an average of just over 446 a run, the trio had the record bid under control from an early stage and needed just 415 in the final run starting at 3pm.
The only other Northern Hemisphere shearer to have broken a shearing record in New Zealand is Ivan Scott, from Ireland.
Next Tuesday at Waitara Station, between Napier and Taupo, Luke Mullins, from Taihape, Eru Weeds, from Southland, and James Mack, from Waikato, attempt a three-stand ewes record that was established just over a year ago.