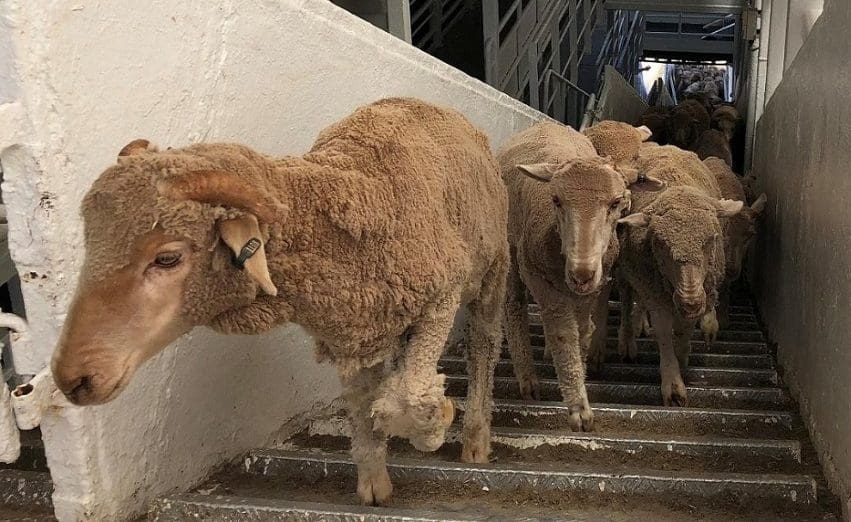 SOCCER'S World Cup tournament in Qatar has been as inspiring for the Socceroos as it has been for Australian live sheep exports into the country.
And the quality of Australia's sheep has become a key factor for Qatari importers who have sourced sheep from other countries over the past two years since live sheep shipments from Australia ceased.
Live sheep shipments from Western Australia to Qatar resumed in October — after an almost two-year break – with a consignment of 15,000 on the Al Kuwait, and another 10,000 on the Al Messilah in late November.
Rural Export and Trading (WA) general manager Murray Frangs said live sheep supply into Qatar was consistent until a government food security subsidy system was discontinued. In 2019, Qatar took 374,699 sheep from Australia and in 2020, 190,000 sheep were shipped.
Qatar was Australia's biggest live sheep market when much of the World Cup infrastructure was being built and the Qatari government (via Widam Food) subsidised the import of Australian sheep to help feed the migrant workers. When that subsidy was removed, Australian shipments ceased.
"The only reason it (Qatar shipments) dropped off was because of the subsidies being removed," Mr Frangs said.
He said the supplies of protein into Qatar varied after the subsidies were lifted and sheep meat supplies who could afford the subsequent pricing came from closer countries such as Sudan and Somalia.
But the demand associated with the World Cup opened up the opportunity for Australia to contemplate supplying Qatar again.
"And that was because of the renowned quality of Australian sheep meat," Mr Frangs said.
The Qatari supply chain has now come to understand the impact of the removal of the subsidies, he said.
"We are now able to have this conversation that their demand has increased because of the World Cup and also as Australian pricing has become closer to the long-term average means that we are now able to have commercial discussions.
"Going forward we would certainly want to leverage off the opportunity that we've had to supply for the World Cup and the fact that our pricing is something that they can consider now as we all seek to overcome the impact of the removal of the subsidies."
Mr Frangs said any limitations on WA meat processor slaughtering capacity had not been a factor in the increase in Qatar shipments, which was more related to supply and demand and recent sheep pricing in Western Australia returning to long-term averages.
"The limitation on killspace isn't something we've been able to compensate for with live exports and we're really hoping that the opportunity to bring more ships to WA will be supported by the opportunity to go to Qatar as well as to the standard (Middle Eastern) markets."
There was a recent increase in WA lambs heading east to counter the difficulty of eastern states processors sourcing lambs from flood-affected areas, and Mr Frangs said if this option had not been there, WA producers would have had bigger problems.
"The demand from the World Cup and the opportunity to leverage from that and the current pricing coming back to the long-term average provides us with the opportunity to be very relevant in the discussions for additional shipments."
Mr Frangs said the quality of Australia's sheep meat compared to product from competing countries is increasingly becoming a factor with the adjustment of sheep prices.
"Compared to what they've been receiving over the last two years, the quality of the Australian sheep has been a stand-out."
He said the seasonal conditions have put Australian sheep in better condition, but he said the meat quality of Australia's sheep is well-above that of other world suppliers.
"They don't have to be good Australian sheep, they just have to be standard Australian sheep to be so much better."
Elders WA commercial sheep manager Dean Hubbard said about 70,000 lambs were trucked east from WA in September by traders and processors, with significantly more in October, and mostly into feedlots, but also direct to slaughter. Mr Hubbard said live export is part of the WA industry landscape and the interest from live exporters has grown with a 20pc correction in domestic lamb and sheep prices.
He pointed out that air freight into the Middle East was ongoing, but said the Qatar live export numbers were positive.
"It's what we need."
He said WA needed to grow its flocks and to do this would be to have a competitive market.
"And part of that competitive market is live export and we need to look after live export for the long-term.
"The last thing we need is for live export to disappear without having additional processing capacity."