WORKING sheep dogs sold to 5800 guineas or A$12,288 at the latest CCM Auctions sale at Skipton in the United Kingdom.
Moule Media said the fully trained sheep dogs sold to 5800 gns or A$12,288 for Kirkby Stephen working sheep dog stalwart and trialling legend Alec Baines' 2.5 year-old black and white dog Tan Hill Harry.
Harry was sired by Jed, from Andrew Procter in nearby Great Musgrave, bought for £6,900 at a timed online Skipton sale in 2020 and a full brother to Kevin Evans' German import, Red Spot. Harry was out of Mr Baines' own trials-winning Tan Hill Lassie and already a nursery trials winner on his first outing this year. The dog sold to a local farmer who asked not to be named.
Two dogs made 4,400gns or A$9277. First up was Red Rose handler Colin Birkett, a Carnforth beef and sheep farmer, with his two year-old black and white dog, Mal, by Tom Rome's Jack, out of Malcolm Cottam's Mist. The local buyer was Gary Lodge, who runs Swaledale sheep on Malham Moor and a 70-strong Limousin cross suckler herd. Mal will be used solely as a work dog.
Also hitting 4,400gns was County Durham regular Jean Howes with her June 2021 drop, tri-coloured bitch, Ruby, the last of a long-established and highly successful Redgate line going back to her late father Bill Skidmore; one of the pioneers of early working sheep dog sales at the North Yorkshire venue. Ruby is by KJ Goatcher's Red, out of Jean's own Redgate Dot. Ruby became the first-ever dog to be owned by Alison Bell, of Morpeth, Northumberland, who is now taking a more active involvement on the family sheep farm, where she also runs a wedding venue business.
It was a successful day for young Welsh trainer Arran Games, of Crickhowell, South Wales, who sold his August 2019-born black and white bitch, Sky, for 3500gns or A$7379 and January 2021-born black and white bitch, Milly for 4000gns or A$8435.
Trade ranged from 100 to 1000gns in the pup pen, with the CCM Summer Sale's top price seller, Willie Torrens, seizing a joint top spot. Torrens' 14 week-old bitch pup, Jan, quickly garnered the attention of bidders. With her sleek look and keen eye, she showed excellent promise and swiftly sold for 1000gns or A$2108.
Arran Games' four month-old tri-coloured dog, Clide, also topped at 1000gns, selling locally to J&G Throup of Addingham. Showing excellent potential and instinct, Clide – out of Games' earlier sold Sky – is sired by Scott, owned by Arran's brother, Ross Games.
Craven Cattle Mart's general manager and auctioneer Jeremy Eaton said word must have spread regarding the consistent quality of the dogs and the trade following the last field sale in July, resulting in an encouraging increase in numbers of dogs for the sale.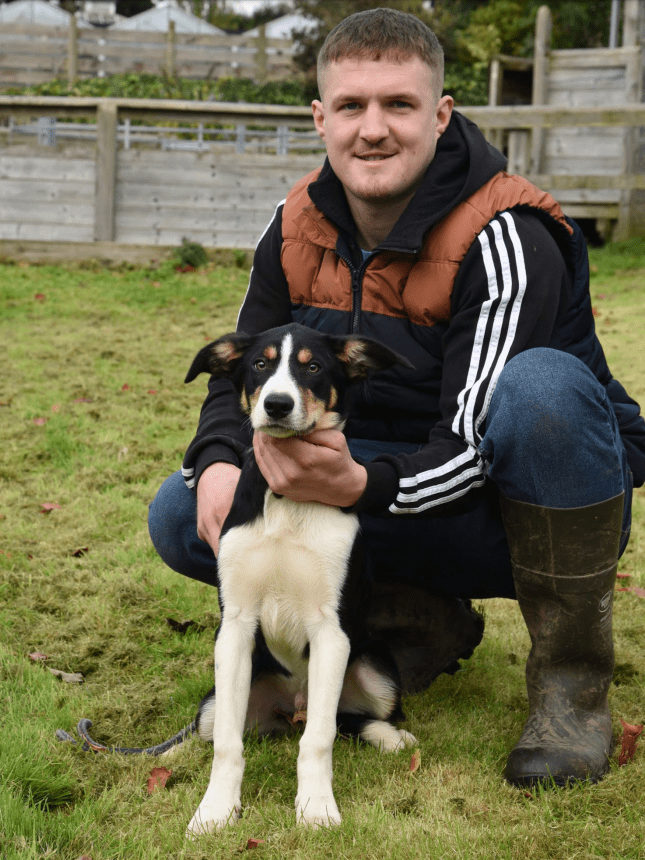 Arran Games with Clyde. One of two sold in the pup pen to reach 1000gns.