Wooltrade sales started on a strong note last week, slowing down when Australian-US dollar exchange rate headed upwards, though there were some healthy sales for fine wools.
Wooltrade market operations manager Tony Benson said the physical wool market also ended the week on a soft tone that coincided with a rebound in the currency and some waning interest for medium micron wools.
Top price for 15.7 micron line from Tasmania
The top Wooltrade price for the week was 1480c/kg clean for a three-bale line branded RAVENSDALE from Tasmania and offered by Roberts Ltd. This was a well-specified Australian superfine fleece lot at 15.7 microns, 0.5 percent vegetable matter, 73.6 percent yield, 72mm staple length with a tensile strength of 50 Newtons/kilotex.
"Congratulations to the grower for producing an outstanding product," Mr Benson said.
The AWEX Eastern Market Indicator ended last week up just one cent to 1093 cents but fine wool sales on Wooltrade looked firm, he said.
Tender fleece selling well
Wooltrade sold 17.5 micron fleece wool for up to 1356c/kg clean, 18 microns made 1298c/kg and 19 micron lines sold to 1202c/kg.
"But contrary to my thoughts last week on 20 and 21 micron wool, the best price on Wooltrade was 1160c for 21.5 micron tender fleece with the indicator at the same level," Mr Benson said.
He said fine piece lines from stylish 15.6-16 micron lots found buying interest earlier, part-tender wool sold for up to 1239c/kg clean and a few 40-50mm fine lambs also sold on Wooltrade.
"AuctionsPlus wool that runs online on Tuesdays at 11am had another strong sale for oddments that continue to perform well above expectations and one wonders how much higher they can go as prices in some cases were 20 cents clean dearer.
"August 2014 is when carding wool commenced a rally and after a brief pause this year, they continue to rise strongly with crossbreds recording similar results."
Growers meeting the market as supply wanes
Mr Benson said Wooltrade has 9,408 bales listed this week, slightly lower than previous weeks.
"But the auction passed-in rate finished at a tiny 6.4 percent meaning that growers are meeting the market and supply drifts lower around this time of year.
"With 43 thousand bales each week for the next 2 weeks and then a recess for Easter, keep a close eye on the market for an increase in volatility and capture any market spikes if and when they occur."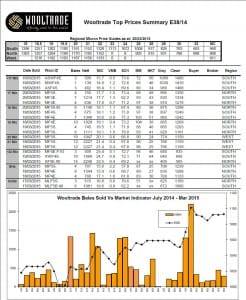 Source: Wooltrade.