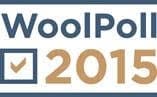 WOOLPOLL 2015 voting options are being considered by Australia's Minister for Agriculture Barnaby Joyce prior to the launch of the key poll next month.
AWI and previous WoolPoll panels have launched WoolPoll ballots at the Australian Sheep and Wool Show at Bendigo in July, but this year the 2015 panel decided to launch closer to poll start date to in an attempt to increase voter participation.
At the show in Bendigo on Friday, WoolPoll 2015 panel chairman Will Roberts and Australian Wool Innovation's corporate affairs and international market access group manager Peta Slack-Smith confirmed the WoolPoll 2015 voter information kit, including the five poll options, was with Mr Joyce.
"Under the WoolPoll regulations, the minister has to approve the voter information kit and the ballot papers, once he is satisfied that the panel has verified the poll process as appropriate.
"So that is with him right now," Ms Slack-Smith said.
Mr Joyce had several weeks to consider the information kit and ballot papers prior to the launch of Wool Poll 2015 on August 28. Shortly after the launch, woolgrowers will receive their voting papers, she said. WoolPoll voting opens on September 14 and closes on October 30 this year.
WoolPoll is a three-yearly poll of eligible wool levy payers to determine the rate of levy paid to AWI Limited for industry research, development and marketing activities.
The poll gives levy payers the chance to set the rate of wool levy they will pay for the following three years, by voting for their preferred levy rate option. Under the regulations three to five options must be presented to levy payers, including a zero rate. The levy rate that receives the most votes is then recommended to the Minister for Agriculture, Fisheries and Forestry and reflected in relevant primary industries excise legislation. The poll also asks levy payers to endorse the strategic direction of AWI's investments.
The outcome of the WoolPoll – the levy rate and the proportion of funds to be spent on research, development and marketing – is used to negotiate a new Statutory Funding Agreement with the Federal Government, which governs AWI's expenditure and operations for the next three-year period.
The outcome of the poll also forms the basis of AWI's Strategic Plan, which outlines the key investment priorities and activities for the next three years. The plan is based on woolgrower and government priorities for expenditure, which AWI seeks through a robust consultation process during development of the plan.
At the 2012 WoolPoll, woolgrowers voted to continue paying a two per cent levy to AWI, with 40 per cent to be spent on research and development and 60 per cent on marketing.