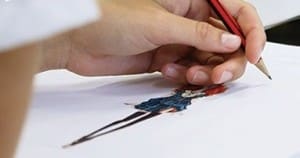 WILL Wool4School help put Cool Wool on the backs of Australia's athletes at the 2016 Olympic Games in Rio de Janeiro?
Wool has history with Australian sport, with The Woolmark Company dressing past Olympic teams via Sportscraft – the oldest Woolmark licensee in Australia – and wool now back in AFL wear thanks to Australian Wool Innovation's Fibre of Football.
In 2006 Australia's Olympic team wore woollen socks in the opening ceremony and now Merino wool is extant in athletic and outdoor wear the world over, including in new lightweight waterproof jackets and trench coats, and more recently, the Adidas Ultra Boost jogger with its stretchy woollen upper.
This week wool will venture deeper into sporting territory with The Woolmark Company's 2016 Wool4School competition asking Australian students to design an outfit for their favourite Australian sports team.
For Wool4School in 2016, The Woolmark Company is asking Australian school students to design an innovative and creative sport outfit that conveys the Aussie team spirit.
Wool4School offers students a real-life fashion design experience, with big rewards for both students and teachers. Open to students in years 7, 8, 9, 10 and 11, Wool4School sets the challenge to design an original outfit made from one of the world's most innovative and natural fibres – Australian Merino wool – and go in the running to win part of $10,000 worth of prizes.
AWI's General Manager of Trade Education, Julie Davies, said Wool4School was an important part of the company's educational offering.
"Wool4School has helped put this premium, natural fibre back into the hands and minds of thousands of young Australians.
The competition continues to grow with great support from teachers from right across the country, and a version of Wool4School has also been taken up in Hong Kong, where students have also enjoyed the opportunity to feel the softness of Australian wool and discuss its versatility in the world of fashion," she said.
Teachers can also take part in the competition by incorporating the lesson plans into their classroom. By registering at www.wool4school.com.au, teachers receive a free resource pack to support their lessons, created in line with the National School Curriculum. Students can also download a free resource pack, available online.
The outfit must be made from at least 70 percent Australian Merino wool and suitable for your favourite team to wear during its match or medal ceremony. The outfit must contain a minimum of one piece with a maximum of four pieces, which excludes the wool accessory, and can be designed for either a male or female. Wool4School is purely a design competition, students don't actually need to make the outfit, just present sketched designs.
Source: Australian Wool Innovation