THE unprecedented volatility of Australia's wool market over the last month has put strain right across the pipeline.
This atmosphere creates indecision and hesitation, with the Eastern Market Indicator moving an average of 50 cents (3.3 percent) every day over the last 12 auction trading days.
The downtrend of 411 cents (27pc) has been followed by a rise over the last three days of 192 cents (12.5pc).
The impact on the forward markets has been more measured. It has seen an uplift in interest into the first half of 2020, but only on light volumes. Sharing the risk along the value chain and removing uncertainty should be the primary goal.
April forwards traded at 1670 for 19 micron. The daily closing of the 19 micron index over the last four days has ranged from 1550-1794 cents, a range of 244 cents. The 21 micron contract traded in April at 1630 cents, with the spot index ranging from 1444-1707 cents, a range of 263 cents.
Valuing certainty over the fear of lost opportunity is critical in today's heightened risk environment.
The magnitude and velocity of the fall and rally has not been experienced before by the market. Combined with the ongoing ever-changing trade tensions, our main consumer, China, is at a loss. Over the last two decades the average daily movement of the EMI has been less than 10 cents either positive or negative. The last six weeks it has been five times that rate.
Setting targets and finding fair value levels will be a challenge for all participants in this volatile market. Exporters are looking for confirmation, by way of new orders, where the base might be set off this bounce.
Growers should be looking at initially setting conservative spring and summer targets, with step ups should the rally continue. These levels should be balance against the likely rise in production costs and volumes with the ongoing dry conditions.
Estimating indicative forward levels is more problematic than usual. Much will hinge on the mood running up to the Nanjing Wool Conference next week. It would appear unlikely that the momentum of this week spot auction will deliver an immediate reaction from processors. Having seen the value of their stock and forward order book bounce around over the last six weeks, they will be hesitant to jump back in on mass. Exporters contracting new orders will likely look to hedge some of that risk thereby creating some opportunities for growers.
The graph below shows the movement of the 21 MPG over the last years. Technical analysts were suggesting a retracement from the high would find support around 1900 cents then 1650 cents and finally 1460 cents. The market overshot, then bounced off the low of 1444 cents. The analysts see first resistance to this rally coming at 1662 cents and more significant resistance at 1792 cents. Melbourne closed yesterday at 1769 cents, targeting longer term support back at 1660 cents.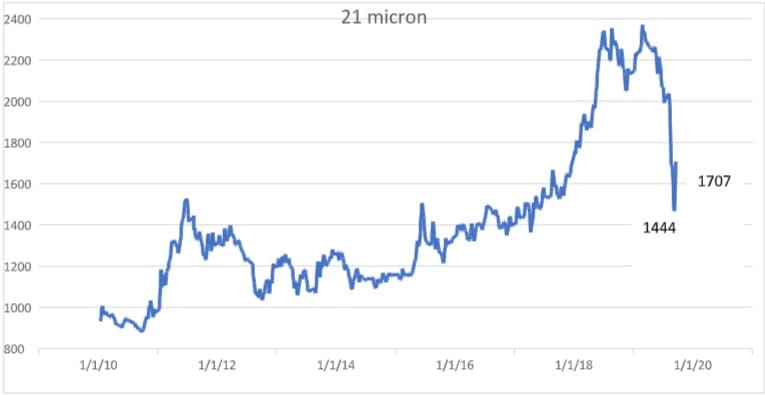 Indicative wool forward levels
19 micron                           21 micron                           28 micron
September                                        1730 cents                         1650 cents                           870 cents
October                                             1720 cents                         1640 cents                           850 cents
November                                         1710 cents                         1620 cents                           840 cents
December                                         1700 cents                         1600 cents                           840 cents
January/March                                 1680 cents                         1600 cents                           800 cents
April/June                                          1650 cents                         1580 cents                           770 cents
Trading levels
September 21 micron                     1650 cents                         5 tonnes
November 19 micron                      1650 cents                         2 tonnes
November 21 micron                      1520/1535 cents               15 tonnes
November 28 micron                       835/850 cents                 11 tonnes
December 28 micron                       835/850 cents                 11 tonnes
January 2020 21 micron                 1600 cents                           3 tonnes
April 2020 19 micron                       1600/1670 cents                 9 tonnes
April 2020 21 micron                       1630 cents                           5 tonnes
May 2020 19 micron                       1650 cents                           2 tonnes
Total 63 tonnes