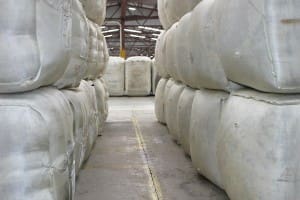 AUSTRALIAN wool prices experienced a dramatic correction again this week, with most Merino types losing 50-100 cents, before a positive trend emerged in later sales.
AWEX senior market analyst Lionel Plunkett said following on from the largest fall in the benchmark Eastern Market Indicator in over two years of 49 cents last week, the EMI fell another 43 cents by Thursday to close at 1459c/kg clean.
The EMI in US$ terms fell 50 cents to 1101 cents as the A$ fell to US75.44 cents. Brokers passed in 16.5 percent of the 46,104-bale offering.
However, Mr Plunkett said the market actually closed on a positive note.
"Buyer confidence left the market on the first day of selling and as a result the market was pushed continually downward as the day progressed."
Mr Plunkett said the EMI lost 45 cents on the first day as most Merino types generally experienced losses of 50-100 cents.
"Day two of selling saw a remarkable turn of events, buyer confidence returned and the market quickly found a new level and then slowly but noticeably improved as the day went on.
"The EMI made a modest but welcome rise of two cents to not only halt the decline in prices but set a positive tone heading into next week's sales."
Mr Plunkett said the skirting market closely mirrored the fleece, with lack of buyer support pushing prices down steadily. Most types and descriptions lost between 50 and 100 cents from the levels achieved the previous week.
"The crossbred sector continued to find good support and some types and styles actually managed to post increases for the week, in particular 30 micron which was up to 10 cents dearer.
"All other crossbred descriptions traded within 5 to 10 cents of their previous levels," he said.
Mr Plunkett said the carding market, which has been solid for many weeks, finally suffered a large correction this week, with all three carding indicators falling an average of 37 cents.
"Despite the sharp drop in prices, quantities continue to remain high, with currently over 46,000 bales rostered for sale in Sydney, Melbourne and Fremantle next week with selling on Tuesday and Wednesday to accommodate the Easter break."
Buyers take wait-and-see approach
Australian Wool Innovation's weekly market report said unlike last week where variable and erratic pricing was the most noticeable aspect of the auction market, this week there was what looked like a more measured step down by those buyers willing to participate in purchasing.
"Other buyers were completely risk adverse, and chose to simply sit out, allowing the braver competition to snare some quantity at advantageous levels."
AWI said the strength of the final day's prices were somewhat unsurprising for most operators.
"The increased competition invariably reflected a truer state of the demand scenario and buyers forward sold positions.
"A "floor" in prices had appeared to have been met and were built around the 19.5 and 21.0 micron price points," AWI said.
"Once stability transpired around this area, buyers became more confident in setting buy-in levels across the whole range of Merino types.
"A substantial re-emergence of buying by a major top maker also gave the sale rooms an extra degree of confidence to resume normal operations."
AWI said i is quite noticeable in the Merino segment that the better types suitable for European and highly specified Indian delivery of 19 micron and finer have remained relatively unaffected by the downturn of the past two weeks.
"Again this week, the major Italian operator was dominating the sale rooms on these wools, and barely a lot went to their competition in both Sydney and Melbourne.
"This week their range increased to also include the best sale lots from 16 to 17 micron, which added to their already in place stranglehold on the 17 to 19 micron area."
AWI said a flow on of the more committed approach to buying witnessed on the final day of this week is expected from auction participants next week.
Click here for the latest AWEX Micron Price Guides.
Source: AWEX.