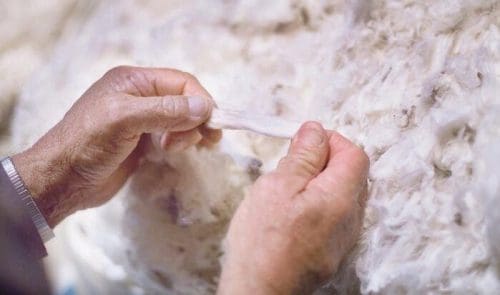 AUSTRALIAN wool prices slipped lower this week in the first series of auctions after the Easter break as more bales hit the market.
The Australian Wool Exchange said market has eased again, falling for the second consecutive selling week.
"Sales resumed after the one-week Easter recess and due to the break in selling the national offering understandably rose, again over 50,000 bales were on offer."
Brokers offered 52,951 bales, 6701 more than the last auction series and 12.3 percent were passed in.
"There were anecdotal reports that the business being done by exporters was at levels slightly below the current market, prompting many observers to believe that the market would be cheaper.
"Although by the end of the series the market did record an overall drop, the falls were not as large as predicted and there were in fact positive movements recorded."
The AWEX Eastern Market Indicator (EMI) fell by 11 cents for the series, closing at 1289 cents/kg clean.
"The EMI is now at its lowest point since December, 78 cents lower than the same time last year, a fall of 5.7pc," AWEX said.
"Currency continues to play a large role in market movements, both this week and in the past year.
"The Australian dollar is currently trading over 7.5 cents lower than the corresponding sale of the previous season," AWEX said.
"This means that when viewed in US dollar terms (USD) the EMI is 156 cents lower than the same time last season, a substantial drop of 15.3pc."
AWEX said the Fremantle region has gone against the trend seen in the eastern states, recording solid increases across fleece types, particularly in wool carrying less than 1pc vegetable matter (vm), as at this time of year these types are in limited supply nationally.
"The Merino fleece MPGs in the west added between 5 and 26 cents, while the Western Market Indicator rose by 3 cents, only a lacklustre skirting and oddment market preventing a larger rise."
Sales next week will be held on Wednesday and Thursday to accommodate the Anzac Day Public Holiday. The national offering falls to 44,901 bales.
Click here to se the latest AWEX Micron Price Guides.
Source – AWEX.