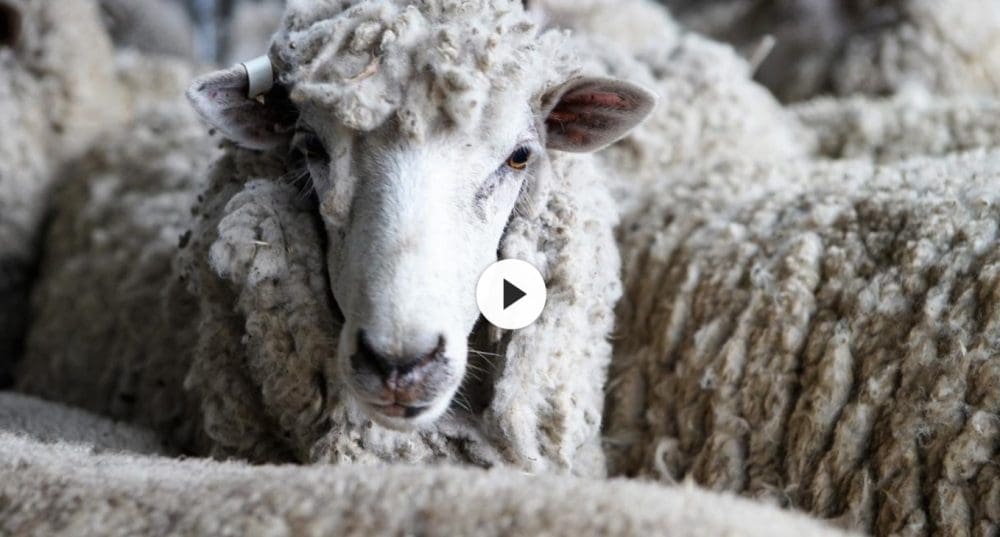 FORMER Australian Wool Innovation chairman Wal Merriman has claimed in a German television documentary interview that wool price rises indicate "a huge part" of the global wool industry did not mind buying wool from mulesed sheep.
In the half hour SPIEGEL TV documentary broadcast on German station ZDF last month, Mr Merriman also said he did not specifically know of any German companies sourcing non-mulesed wool. Click here and scroll to the 18-minute mark to see the documentary's Merriman interview.
Although Mr Merriman has not supported mandatory pain relief for mulesing in Australia, he concedes in the interview that until the issue of mulesing affects "their market," the best way for Australian wool growers to look after sheep is mulesing with pain relief.
In the interview, despite a suggestion by interviewer Joanna Michna, Mr Merriman does not acknowledge non-mulesed wool production as a new business model based on animal welfare. Nor does he mention sheep breeding or genetic solutions to mulesing. This is despite AWI early last releasing a guide to planning for a non-mulesed Merino enterprise and AWI genetics and animal welfare advocacy program manager Geoff Lindon in August 2018 declaring that declaration of non-mulesed wool production and the use of pain relief for mulesing were "musts" for wool growers.
Before walking out on the interview, Mr Merriman repeats his belief that the "end scenario" to growers not being able to mules their sheep would be that they would turn to cattle and crops.
"It's a business," he states before walking out and wishing the crew a good flight home.
When contacted about the documentary, Mr Merriman said he had not seen it and had no comment on his interview, referring Sheep Central to AWI chair Colette Garnsey.
Mr Merriman's comments in the documentary have angered some wool growers who take issue with AWI's efforts or lack thereof to defend Australia's wool industry in the media and against attacks by animals rights groups such as People for The Ethical Treatment of Animals.
Non-mulesed wool marketing questions not for Garnsey to answer – AWI
In questions directed to AWI chair Colette Garnsey, Sheep Central asked if Mr Merriman's views on non-mulesed wool reflected AWI's attitude on the issue, what was AWI's strategy on informing world media about Australia's sheep welfare practices and were International Woolmark Prize entrants in Europe showing preferences in the mulesing status of wool they used.
AWI media representative Elissa Lewis responded that "the topics of mulesing and animal welfare are operational and as such aren't matters for the board or AWI chairman to comment on." She has refused to state whether Ms Garnsey was shown the questions and said AWI's response should be attributed to an AWI spokesperson, as yet unidentified by AWI.
The spokesman said AWI is observing that IWP entrants and finalists are recognising the consumers of today and of tomorrow, particularly the Y and Z generations, want to know where the fibre in their clothing comes from, who made it, and what happens to it when it is thrown away.
"They want to be able to trace the journey of the wool fibre in their clothing from the farm to their fashion and they want their fashion to be sustainable."
The spokesperson said AWI is a strong supporter of the National Wool Declaration, under which farmers declare the mulesing status of their clip, and AWI helps advise farmers who want to move away from mulesing.
"The percentage of wool growers who do not mules their sheep continues to rise every year.
"The latest figures reveal nearly 15 per cent of the national clip now comes from non-mulesed sheep or from farms that no longer mules," the spokesperson said.
"Evidence shows non-mulesed wool commands a premium in international markets, where buyers are becoming more demanding in terms of the provenance of the wool.
"At the farm gate, there is a commercial imperative to ending mulesing," the spokesperson said.
"Already wool from non-mulesed sheep is commanding a premium in many circumstances as buyers take more of an interest in the provenance of their wool.
"Wool growers tell us they would stop mulesing if there was a viable and cost-effective alternative."
The spokesperson said AWI is striving to deliver a viable mulesing alternative, investing more than $30 million since 2005 on measures to combat flystrike as part of a greater long-term investment of more than $60 million in sheep health and welfare measures and it continues to be AWI's highest on-farm R&D priority.
"In the immediate term, it is actively working to expand the use of measures that improve animal welfare, such as pain relief, and to support farmers moving away from mulesing.
"AWI supports all woolgrowers in their choice of best practice animal health and hygiene in flystrike control and encourages the use of the National Wool Declaration and the digital wool exchange portal WoolQ to promote transparency, accountability and enhance provenance for the entire wool trade."
Documentary balanced but AWI input disappointing – Olsson
Australian Wool Growers Association director Chick Olsson helped the German film crew contact other growers, AWEX and broker representatives, and hosted them on his New South Wales farm.
He considered the documentary was "pretty balanced" and not "animal rights group focussed," but expressed frustration at Mr Merriman's suggestion that mulesing is not an issue in Europe. He said Mr Merriman's performance in the interview illustrates the "appalling leadership" shown by AWI in defending the reputations of Australian wool growers.
Mr Olsson has an in-depth knowledge of the German market's sensitivity to animal welfare issues. As a director of the company Animal Ethics Pty Ltd he has been involved in introducing the use of its pain relief product Tri-Solfen to Australia, New Zealand and more recently into Germany and Europe generally.
"For anyone to say that this is not a societal issue focussed on wool in general, really is negligent," he said.
Mr Olsson said AWI needed to come up with a plan to defend Australian wool's public reputation.
"You have major German media outlets getting information from everywhere without any help from industry leadership.
"There is nothing clear, nothing defending the good work most growers are doing," he said.
"This is a case of AWI, clearly, in the past, burying its head in the sand trying to avoid this international issue."
"Australian farmers are doing such a bloody good job of running sheep in a very hostile environment – that's the issue for me — and they are not being recognized and they are not being supported by levy bodies, it seems it is too hard to defend our reputation nationally, for some strange reason," Mr Olsson said.
"This is a big issue and it has divided the industry for the last 20 years and it is still not solved."
Documentary has damaged Australian wool's reputation in Germany – Olsson
Mr Olsson queried whether Mr Merriman walking out on the German interviewer was "the action of a wool leader defending our reputations."
"Is AWI saying 'you have to pay us more for not being cruel, is that what the German audience is going to hear?
"Rather than, 'we are doing this for very good welfare reasons and we are throwing everyone we've got at this to fix the problem'," he said.
"All AWI can say is you've got to pay us more to stop being cruel."
Mr Olsson said there is little or no Australian industry cohesion on the issue of mulesing and non-mulesed wool production, "with absolutely no leadership from AWI at all on these welfare issues."
He said apart from incomplete NWD results, there were no confirmed statistics on the exact quantities of wool from non-mulesed sheep or from those mulesed with or without pain relief.
"No one knows the truth
"PETA has had a virtually free and uncontested run in Europe and the USA on these issues that damage wools brand in the market place," he said.
"When AWI is finally interviewed, rather than be diplomatic and a statesman for all wool growers, he (Mr Merriman) walks out on the interview leaving German viewers no doubt perplexed as to what he represents.
"Could consumers doubt our statements on true welfare reform?" he asked
"Is he saying, if consumers want non-mulesed wool, you will have to pay more for it?
"That is, "Pay us to stop being cruel?"
Mr Olsson said "once more, this gaping hole in our wool credibility has been exposed, with a film crew genuinely trying to find answers to this complex mulesing issue."
The then chairman's attitude and behaviour is totally unacceptable and the action of a maverick who clearly cannot advocate on my behalf or anyones."
Mr Olsson queried whether German consumers would "race out and buy wool" after viewing the documentary.
"My viewpoint is, (they would say) 'absolutely not, we've got to find another fibre now'."
Mr Olsson said he has heard there is now confusion in the German market around wool supply chains, what are the non-mulesed and pain relief figures, what is Australia doing about the issue and whether the industry taking it seriously.
"What has come about is that clearly AWI has said this is not an issue in Europe and it clearly is a major issue.
"I think the documentary has further damaged the reputation of Australian wool in Germany," he said.
"We had a real chance to step up and defend the reputations of Australian wool growers, but clearly AWI did not do that."
Full traceability increasingly an important issue – Modiano
International wool processor and fluent German speaker Laurence Modiano said it is clear from the SPIEGEL TV report and Der SPIEGEL article that full traceability is becoming an increasingly important issue.
"The National Wool Declaration should be made mandatory.
"Growers should know that any property which fails to declare is automatically assumed to practise mulesing on-farm and its wools receive a commensurate price," he said.
"For me, the ultimate goal is to promote all of wool's extraordinary benefits so that consumers are prepared to pay prices that ensure growers can afford to cease mulesing altogether.
"This is a win for growers, a win for consumers and, best of all, a win for the sheep."
Mr Modiano said without greater transparency about what takes place on farms, Australian wool will continue to be regarded by many with mistrust.
"International attention will focus on blood rather than luxury.
"At some point, a combination of record high prices and consumer disgust may cause buyer fatigue," he said.
"When that happens, wool growers will realise how poorly their industry has been managed."
Many Merriman questions went unasked – Michna
If allowed to continue the interview, Ms Michna said she wanted to discuss with Mr Merriman if the European awareness of mulesing is seen as an obstacle or a chance for European-Australian wool trade in the future.
She wanted to know if the Australian Merino wool used by young talented German designers in Woolmark or AWI-funded projects comes from mulesed or non-mulesed sheep or does the mulesing status of the wool play a role. She has found some young designers were not informed about mulesing and/or animal welfare issues in Australia. Ms Michna also wanted to ask Mr Merriman if there had been issues with his role as a Merino breeder of wrinkled sheep and his power as AWI chairman deciding on the direction of research.
The SPIEGEL TV Merriman interview
Merriman: Brands who want non-mulesed, well good. They can go to the unmulsed box and buy it. Certainly there's a huge part of the wool industry doesn't mind. So they go and buy the rest of the wool.
Michna: You mean by the wool industry the buyers from Germany for example? Like they don't mind?
Merriman: I don't know of any specific buyers in Germany who want un-mulesed. But let's not say there isn't any.
Wool has gone from seven hundred ninety cents a kilo to two thousand one hundred cents a kilo. That's what growers look at. Until the time it affects their market the best way for them to look after sheep is with a surgical solution with pain relief.
Narration: But still pain relief is not executed on most of the farms. And the wool price raises for non-mulesed or mulesed wool. Non-mulesed wool – could it at least be perceived as a new business model?
Merriman: When they demand it and pay for it, they get some more of it.
Michna: But there is not more wool.
Merriman: When the demand grows, they´ll pay some more!
Michna: So it is about money in the end, is it?
Merriman: Otherwise people do other things, cattle, crops.
Michna: … and we have no wool anyhow.
Merriman: Yes, that is the end ultimate scenario.
Michna: It is a shame isn´t it?
Merriman: It is a business!