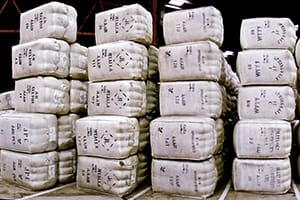 WOOL prices rebounded this week, following last week's grower resistance to lower prices, indications of lower forward supplies, more attractive world currency positions and new orders in the market.
AWEX senior market analyst Lionel Plunkett said the market opened to a New Zealand-only selection on Tuesday which gave indications of strong buyer support, especially in the finer microns where there was good representation of stylish 40nkt types.
"The rising trend was verified over the next two days at the Australian catalogues, initially with a jump of 30 to 50 cents on Wednesday followed by more sedate rises of 5 to 10 cents on Thursday."
The AWEX Eastern Market Indicator closed the week up 36 cents at 1258c/kg clean, with the Australian-US dollar exchange rate at US70.16, down 1.19 cents and at its lowest level since early 2009. The EMI in US dollar terms was up 11 cents US883 cents. But analysts said this level and the Euro's position was still attractive for buyers.
Australian growers passed in just 2.9 percent of the wool they offered among the ANZ total 37,747 bales, compared to 21.5pc last week. The overall pass-in rate including the NZ pass-in rate of 19pc, was 3.7pc.
Factors in buying behaviour this week included currency volatility, the size of the 35,012 bales on offer next week relative to stock positions and shipping deadlines, and industry data pointing to lower wool supplies in the future.
AWTA Key Test Data for August 2015 released this week, and compared with the same period last season, showed a reductions in bales tested for the month of 8.3pc and of weight tested of 7.9pc. For a season to season comparison, the progressive total of bales tested is 9pc lower and, on weight tested, is 8.8pc lower, compared to the same period last season. AWTA Ltd tested 43 million kilograms this season, compared with 47.2 million kilograms for the same July-August period last season.
The Australian Wool Production Forecasting Committee also late last month forecast that shorn wool production for 2015/16 will decline by 4.3pc to 332 million kg, with an estimated 3.7pc fall in shorn sheep numbers and 0.7pc lower average fleece weights in 2014/15. Shorn wool production for 2014/15 is estimated at 347 million kg, a 1.8pc increase on 2013/14.
Rally in the medium to broader wools
Mr Plunkett said the medium-to-broader range rallied through to the close, while the finer microns tended to flatten off on Thursday.
"Merino skirtings followed a similar pattern, initially jumping higher before a firm finish on Thursday. "Crossbreds found renewed enthusiasm after a soft week last sale," he said.
"Gains of 20 to 30 cents for the sale pushed the 30 MPG back into record territory."
Mr Plunkett said the 28 micron wools had a similar rise and are now about 40 cents shy of the record made earlier in the year.
"Merino cardings also put in a strong performance with gains around the 20 cent mark this week. "The recent rally now has the Merino Carding Indicator needing only another 50 cents before it achieves new record levels."
New business and low Aussie dollar has impact
In Australian Wool Innovation's weekly wool market review, trade consultant Scott Carmody said this time last year the EMI was at 1025ac/clean kg, 23pc lower than now.
"Pre-sale talk had exporters more upbeat, with some smatterings of new business being reported and an AUD falling to 0.7000 against the USD also buoying confidence.
"The local buyers that had chosen to largely sit out the past few weeks appeared to be showing more interest by spending more time over the sample boxes," he said.
The market for Merino fleece of all microns opened to large gains of 35-45c/kg clean and sold strongly at those new levels to the close.
"The final day again saw all types record a 10 cent rise but a weakening in competition was witnessed at the conclusion of selling for Merino fleece wools broader than 19 micron."
Merino skirtings interest varied considerably depending on the type, VM (vegetable matter content) and estimated hauteur, with a general 40c/kg clean added for the week.
"A high quality but small in volume super fine skirtings selection from the New England and Goulburn areas saw some great returns for growers, and in some cases, prices fell just short of the levels achieved for their fleece wools.
"Cardings of all types and descriptions continued to march upward in price and a solid 25c/kg clean was added to most types and descriptions in this market segment," he said.
"Types suitable to open top types appeared to gain further attention from exporters, but a lot of this is likely to be from carbonizing buyers looking to supplement their orders in the very small offerings of traditional carbo type wools.
"All crossbred types were strongly sought by many buyers and large gains of 25-40c/kg clean was the result."
Mr Carmody said with a little over 34,000 bales up for sale next week, prices should hold.
"Although predicting an unchanged market is possibly the most unlikely result given the radical movements we have been witnessing over the past few months."
Sources: AWEX, Australian Wool Innovation.