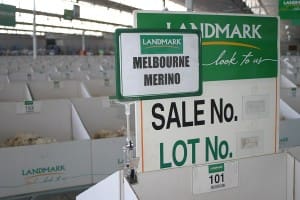 WOOL prices held relatively firm this week despite a slightly higher $A-US exchange rate, the AWEX Eastern Market Indicator dipping just 1 cent to 1296c/kg clean.
The Australian Wool Innovation weekly market report said it was a somewhat disappointing starting result to sales this week, with most buyers were expecting a stronger market until Australia's very good gross domestic product or economic growth figures (1pc growth in the March quarter) were released.
"Unfortunately, this occurred just before the start of selling on Wednesday and saw the $A versus $US rate of exchange soar by 100 points to just short of US73 cents, thus eliminating a few cents from the buying limits of the indent operators and sending forward buyers into a more cautious mode pre auction.
"Thursday saw a much better tone which coincided with a weakening forex rate and the market closed relatively strongly."
With the Australian dollar's exchange rate lifting to US72.48 cents and the EMI 4 cents higher in US dollar terms at 939c/kg, brokers passed in 7.5 percent of the 32,043 bale offering.
Five-week EMI rally ends with GDP figures
AWEX senior market analyst Lionel Plunkett said a five-week rally in the AWEX EMI came to an end this week with the 1-cent dip.
"The EMI had been on a steady march towards 1300 cents but faltered just short of the mark, closing this week 1 cent lower at 1296 cents.
"The EMI went unbeaten for 11 consecutive trading days which was the longest run without a loss in more than a year," he said.
Mr Plunkett said this week's national bale offering was the second smallest three-centre offering for the season.
"The results for the week were largely reflective of supply.
"For Merino Fleece that meant a focus on the 20.1 and broader range which contained approximately 6000 bales and resulted in a firming of 5 to 10 cents over the two days," he said.
"By comparison, during April and May it was common for a national offering of 9000 to 10000 bales."
Finer microns dragged market down
The larger portion of the Merino Fleece sector, in the finer microns, proved to be a drag on the market this week, Mr Plunkett said.
"The better types (stylish, 40N/kt) still managed good results and were in line with last week but the lower spec types had unconvincing support and were generally 10 to 20 cents cheaper.
"As with the broader Merino fleece ranges, "Room 2" types also found good demand on limited volume."
Merino skirtings were mostly unchanged on the previous sale with best style and low vegetable matter types maintaining recent buyer enthusiasm, Mr Plunkett said. The Merino Carding Indicators recorded strong results with increases of between 5 and 20 cents.
Crossbreds had a mixed outing; increases in some microns were balanced out by losses elsewhere. At 28,594 bales, next week will be the smallest sale in 12 months, he said.
AWI said with Freemantle not selling again next week, volumes to be offered have dipped below 30,000 bales again.
"Whilst exchange rates hampered local sales this week, the price pressure building within the tightening supply situation remains key and should see strong sales next week."
Click here for the AWEX Micron Price Guide tyable for this week.
Sources: AWEX, AWI.