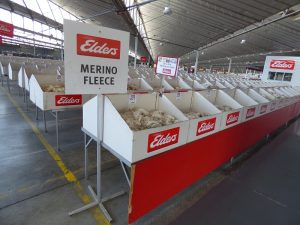 WOOL prices generally held firm at auctions across Australia this week despite brokers listing the second largest bale offering of the season.
Brokers passed in just 5 percent of the 44,891-bale offering as the AWEX Eastern Market Indicator finished unchanged at its sixteen-month peak of 1331c/kg clean.
The EMI in US dollars closed down 6 cents at US1016 cents with the $A-US dollar exchange rate at 76.3 cents.
AWEX senior market analyst Lionel Plunkett said the unchanged market came on the back of a significantly larger offering that was 30pc more than the previous sale.
He said a New Zealand catalogue opened proceedings on Tuesday, selling in isolation in Melbourne.
"As with previous NZ catalogues stylish/40nkt types were well supported whilst the few broader types (20/21 microns) lost ground.
"The Australian component followed suit over the next two days with only minor adjustments to the quotes," Mr Plunkett said.
As with the NZ wool, the best and spinners styles in th3e Australian offering received strong competition and recorded solid premiums over other types throughout the finer microns, he said.
"A number of Micron Price Guides in the finer microns (<19) maintained their recent price levels at, or near five-year highs.
"There were odd pockets of weakness; however, the losses were limited to 10 cents."
Mr Plunkett said Merino skirtings were similarly well-supported in the finer microns, particularly best broken types which were up to 20 cents dearer. Crossbreds had another soft week, losing as much as 20 cents clean for most microns.
Merino Cardings went against the trend with Merino Carding Indicators in all three centres rising on average 22 cents for the week. Next week's offering will be more than 49,000 bales with selling in Melbourne, Sydney and Fremantle.
Click here for the latest AWEX Micron Price Guides.
Source: AWEX.