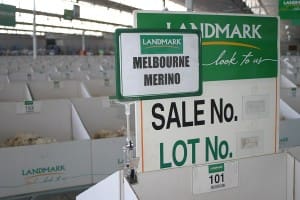 WOOL prices fell to a four-month low as the Australian dollar rallied against the US currency this week.
The AWEX Eastern Market Indicator closed down 35 cents to 1223c/kg clean, with the Australian dollar lifting US1.81 cents during the week to US74.83, although the EMI in US dollar terms fell 3 cents to 915 cents.
Brokers passed in 13.9 percent of the 39,082-bale offering in Sydney, Melbourne and Fremantle.
AWEX senior market analyst Lionel Plunkett said it was the largest fall in the AWEX EMI in six months.
"Tellingly, when converted to the choice of currency for most traders (US dollars) the indicator barely moved over the two days, easing a modest 3 cents.
"That result was due to a strong rally in the Australian dollar which jumped another 1.8 cents and came on the back of a 1.3 cent gain last week."
Mr Plunkett said the rise in the currency this week came after a jump in base metal prices and at one stage the Australian dollar traded above US75 cents, an eight-month high.
"The effect on wool prices was fairly dramatic with all of the Micron Price Guides plunging 30 to 40 cents.
"Despite the magnitude the downturn was reasonably orderly, with prices dropping an equal amount each day," he said.
Mr Plunkett said buyer favouritism still prevailed for selected better types and reductions for these types were not as great as the lower spec types.
"Rates for Merino skirtings deteriorated in line with the fleece sector with most descriptions 30 to 50 cents lower."
Crossbred wools trumped the performance of other sectors despite their overall negative result, he said.
"Although auction levels were 10 to 15 cents lower than the previous sale, a firming basis on Thursday closed the week on a confident note for these types."
Merino Cardings were lower each day, finishing 20 to 40 cents lower.
$US trend indicates demand is relatively stable
Australian Wool Innovation's weekly wool market review said the bull run of the Australian dollar continued unabated against all major currencies this week, resulting in a weakening of local prices.
"As the dollar strengthened, most exporter buyers took a backward step and were reticent to commit to purchases at auction or indeed put forward offers in foreign currency in front of the overseas buyers in fear of a swiftly moving forex rate going against them.
The AWI report noted that while it is always going to be disappointing to see a 2.8pc reduction in price for the market indicator, some confidence in the longer term market prospects can be gained when isolating the wool price as measured in $US.
Even with the weakness of local auctions this week, the US EMI decreased only to a minor extent, AWI said.
"This $US trend indicates that demand is relatively stable and the spot market is just reacting to the relatively severe and uncertain forex movements."
AWI said stocks of greasy wool in the pipeline are reportedly very low and upcoming supply at auction over the next few months is expected to be short, "so as soon as currency stabilizes, we should see renewed interest and a slowly improving price level".
National volumes are expected to be at a low 40,000 bale level in each of the next two weeks before a one-week recess, Mr Plunkett said.
Click here for this week's AWEX Micron Price Guides.
Source: AWEX.