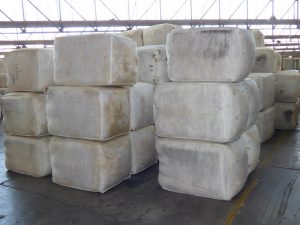 WOOL prices hit a five-year high this week as Chinese demand for superfine wool increased, pushing down into low spec types.
The AWEX Eastern Market Indicator increased 15 cents to 1378c/kg clean, with brokers passing in 6.2 percent of the 49,145-bale offering.
The market rise came with the $A-US exchange rate at 74.09 cents, putting the EMI in $US terms at 1021 cents, up US17 cents.
AWEX senior market analyst Lionel Plunkett said prices continued to climb for the second largest offering for the season.
"The jump in prices for Superfine types pushed the AWEX-EMI to 1378, 15 cents higher for the sale and above the most recent high made in 2015.
"The EMI is currently at a fresh 5-year high," he said.
Mr Plunkett said buyer attention persisted in the superfine microns and dominated the end-of-week results.
"The 16.5 and 17 microns closed the week as much as 60 cents higher, whilst 17 and 18 microns were 40 to 50 cents higher.
"The rises shrunk towards the medium/broader microns, culminating in a small loss for 22 microns."
He said most activity was in the early part of the week with Thursday finishing on a flat note when lots outside of specification tended to lose ground.
"The better lots generally stayed firm until the end."
Mr Plunkett said the outperformance of the superfine types compared to the other microns has pushed out the fine-to-medium differential to multi-year highs.
"The 18 to 21 micron differential is now more than 300 cents, well above the 10-year average of 250 cents."
Mr Plunkett said the skirting market performed in a similar manner to the fleece, 18.5 micron and finer enjoying gains of over 40 cents, while 19 micron and coarser only rose by 10 to 20 cents.
Crossbreds bucked their recent trend and recorded price rises of between 5 and 10 cents, the exception was 26 micron which lost a further 10 cents, he said.
Despite Melbourne and Fremantle's Carding Indicator falling on the second day of selling all three centres have posted carding increases for the week, with again finer wools being the focus.
Next week the offering for the second last sale before the three-week Christmas recess has increased to over 55,000 bales with selling in Melbourne, Sydney and Fremantle.
Click here for the latest AWEX Micron Price Guides.
Source: AWEX.