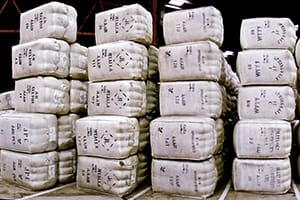 AUSTRALIAN wool prices corrected around quality, forward supply and price uncertainty, and exchange rates, at auctions this week.
Amid supply concerns and foreign exchange corrections, the benchmark AWEX Eastern Market Indicator lost 27 cents to close at 2067c/kg clean, with brokers passing in 9.8 percent of the higher bale offering.
Brokers offered 35,630 bales, up 1566 bales on the previous week. The EMI in $US fell just three cents to US1500c/kg clean as the $A-$US exchange rate rose 0.79 cents to US72.57 cents.
However, despite the market correction, the largest single buyer representing solely Italian interests, New England Wool, bought almost 2000 bales this week.
AWEX senior market analyst Lionel Plunkett said a major concern of industry stakeholders is production forecasts for this season, due in part to the dry conditions being felt in many parts of the country.
"When compared to the corresponding sale of the previous season, the national offering is currently 13.3pc lower."
He said wool prices were discounted from the opening lot and slowly, but deteriorated noticeably as the sale progressed.
"By the final hammer, the price levels were generally 10 to 50 cents below those achieved in the previous week's sale.
"Hardest hit in the falling market were the lower yielding, inferior style types and those possessing unfavourable length and strength results," he said.
"Conversely, a limited selection of better style wools with low cvh results held up particularly well, recording very little change for the series."
Mr Plunkett said Merino skirtings followed a similar path to the fleece and losses were felt across all types and descriptions.
"Prices were generally discounted by 20 to 50 cents, with a large selection of wools carrying more than 4pc vegetable matter (vm) most affected.
"A limited offering of skirtings with less than 2pc vm attracted strong demand and were generally unchanged."
Mr Plunkett said the crossbred sector performed with mixed results.
"General losses of between 10 to 60 cents were recorded in the 25 to 28 micron range, whilst 32 micron managed a 10 cent increase."
He said the oddment market recorded general falls of 10 to 30 cents. The exception was a small selection of new season washing lambs (<0.3pc vm), which were hotly contested and as a result were extreme.
Market reflecting currency fluctuations – AWI
Australian Wool Innovation's weekly market report said the local results at Australian wool auctions this week suggested a weakening wool market has become the trend, but in reality, the market is reflecting the adjustments for currency rather than wool value or demand.
"The wool market appears to be on tenterhooks at present and a stalemate situation seems to be in play.
"Overseas factories are requiring raw material, as it is common knowledge that stocks of greasy wool in front of machines is dangerously low globally," AWI said.
"What is the "right" price to pay is the most vexing of questions that many are faced with, as it is still unclear whether the retail sector can pass these levels fully on to the consumer.
"Many users are actively looking for some forward coverage, but are unable to get set from their usual suppliers," AWI said.
"The local exporters are playing a very cautious game and seem unwilling to go too far forward and carry an exposed open position.
"So, those users needing immediate supply revert to the indents, of which the largest Chinese indent buyer completely dominated the buyer's lists week on the Merino fleece wools."
AWI said European interests remain energetic in the market and some impressive purchase numbers have been recorded in the past few weeks for wools destined for production in the Euro zone.
"This week the largest Italian operator flexed their purchasing muscle and bought almost 2000 bales to add to their impressive season tally thus far.
"The new season clips from the traditional super fine wool growing areas of Australia are being presented in top condition and are obviously satisfying the needs of the premier buyer of quality Australian wools," AWI said.
"As has become synonymous with the Italian purchases of the past few seasons, the price premiums being paid are also quite impressive, and many lots are achieving returns of over 300c/kg clean above and beyond the published price guides."
AWI said largely the same buying patterns are expected for the 35,000 bales on offer next week, with spot currency fluctuations the most likely key to market direction and subsequent results.
Sources: AWEX, AWI.