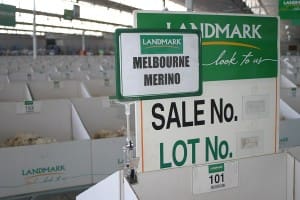 WOOL prices slumped this week as the Australian dollar's exchange rate pushed to its highest level against the US currency this year.
The AWEX Eastern Market Indicator finished 10 cents lower on 1258c/kg clean this week, as the Australian dollar rose US1.27 cents to US73.02 cents, lifting the EMI 9 cents in US dollars to US 919c/kg.
Brokers passed in 7.4 percent of the offering of 39,850 bales – 7093 bales fewer than last week.
AWEX senior market analyst Lionel Plunkett said the benchmark Eastern Market Indicator fell five cents each sale day with the Australian dollar weighing on the market.
"The dollar has increased more than four cents since late January.
"Price-wise, the market continued last week's trend with further falls at this sale, although the margins were not as great; prices retreated 1 percent during this sale compared to 2pc at the previous series," he said.
"Initially there were was a large drop in Sydney valuations, but this was coming off a designated superfine sale from the previous week and the differential in style accounted for some of the movement.
"Otherwise the better types still enjoyed favourable treatment from buyers, including a Tasmanian catalogue offered in Melbourne which provided most of the quantity of better spec types."
Mr Plunkett said the mid-to-lower spec types were patchy, generally closing lower to be the main drag on the indicators.
"Fremantle did show some promise late on Thursday when the finer MPG's closed ahead, mainly due to a strong result for 40N/kt types.
"Merino skirtings received support early before succumbing to the overall weaker market on the final day and closing 20 cents lower," he said.
Crossbred wools resumed their recent trend, where the finer types firmed under consistent buying pressure while the broader microns softened, Mr Plunkett said.
Merino cardings closed 5 to 10 cents lower, mostly from movements on the first day.
Click here to see the AWEX Micron Price Guides for the week.
Source: AWEX