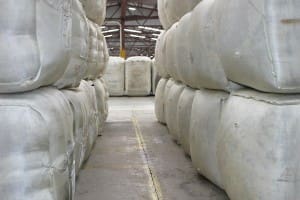 WOOL prices were relatively unaffected by Chinese New Year demand concerns this week, but lower quality clips tended cheaper this week as the AWEX Eastern Market Indicator fell 22 cents to 1412c/kg clean.
Brokers passed in 13 percent of the 46,370-bale offering as the market corrected off its record level of last week.
The EMI in $US terms fell 14 cents to US1065c/kg with the $A-US exchange rate up 0.21 cents to US75.43 cents.
AWEX senior market analyst Lionel Plunkett said the Australian wool market was two-toned this week.
He said the first day of selling, Tuesday, had a negative tone from the outset and the benchmark EMI fell 21 cents to close at 1413 cents.
On Wednesday, prices opened on the previous day's levels and in many cases lots started showing small but gradual increases, and the EMI only lost a further cent to close the week at 1412 cents.
"Although only a relatively modest drop in price was experienced, the EMI only dropping 1.5 percent for instance, many growers were reluctant to accept this minor drop in prices and a higher than normal passed in rate of 13 percent showed this.
"As we have seen recently, style and spec played a large role in market movement, the better the numbers the lesser the falls," Mr Plunkett said.
The skirting market closely mirrored the fleece market with most falls experienced on the first day of selling, followed by consolidation and marginal increases on the second. But Mr Plunkett said some low spec/high vegetable matter content finer micron lots struggled to find support and were tending cheaper.
"Crossbreds which have been struggling in recent weeks, suffered losses along with the Merino sector; in most cases 20 cents easier, with the exception of 28 micron which only lost 5 cents for the week.
"The oddment sector also suffered losses but not to the same degree, although all centres showed losses for the week Sydney and Fremantle actually recorded gains on the second day of selling, setting a positive outlook for the upcoming sale."
Market takes a breather
Rodwells wool manager Michael de Kleuver said parts of the market were tough on Tuesday for wools coarser than 18.5-19 micron, but which were closer to their record highs than the finer microns.
"Some of the bad spec wools got a bit of a touch-up, too long and too high mid-break, and some of the burry ones were difficult, but it's just typical of a cheaper market when there is a flight to quality."
Maximum offerings in Room 2 on the two days of selling probably didn't help prices, he said.
"Wednesday seemed to me to be pretty solid, in Sydney, Melbourne and Western Australia, so next week, bit little less wool around, pressure's off, it will be good, in the light of the currency just sneaking along nicely which is probably not helping us either."
Mr de Kleuver said wool, as a very small part of the world textile market, was doing very well within the context of the cotton stockpile and cheap synthetics.
"The pleasing thing is those medium wool have been very good for a while, the better crossbreds are perfectly OK though not near their record highs of 18 months ago, but they are still at or above five-year averages.
"It is nice to the fine wool Merino job kick on, because that has been the area that has very much been undervalued.
"The growers of those wools have been suffering pretty badly and they needed a bit of a kick along."
Mr de Kleuver said the correction this week reflected a market that had run "really hard for two weeks and taking a breather".
"If the market is firm this (coming) week, then last Tuesday looks like just a little bit of a dip like there was in Week 23 when we had a tough Tuesday then by the end of the week everything had returned to normal.
Well-bred good style wool in demand
Australian Wool Network auctioneer Kelvin Shelley said strong European and Chinese demand, with some Indian orders, had made a difference to the market.
"In the first few weeks back the Europeans have been so active, but also the Chinese.
"We expected a little turnaround this week and coming off last week (record levels), but no-one expected it kicked into gear again on Wednesday," he said.
He said the Chinese New Year had not had much affect, and despite the overall weekly EMI drop this week, the market was still "miles ahead" of where it had been in 2016.
Mr Shelley said wools lacking style and the right specifications of good tensile strength, low mid-break, length and low vm content sufficient to not attract European demand could be dropping 70-100 cents in the current market.
"The Europeans are still buying out to 18.5-19 micron of the right specification good style wool.
Growers did not have to go back to a really fine base to get European interest, he said.
"It's not that at all, you've just got to have well-bred wools and the right wools for the right area."
Mr Shelley said a number of orders had come from major Indian mills in recent weeks.
"They've actually taken some of the finer types as well, which has been great."
"In the last 3-4 months we haven't seen a discount on high mid-break wools, they've been selling so well (into China), but now we are starting to see that gap widen again."
Sales continue next week with currently 42,584 bales rostered for sale in Sydney, Melbourne and Fremantle.
Sources: AWEX, AWN, Rodwells.