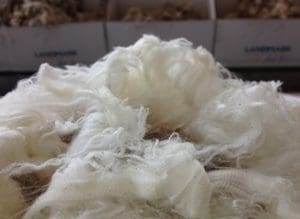 WOOL prices generally consolidated in Australian auctions this week, but buyers were selective and particularly about tensile strength and staple length variation.
The AWEX Eastern Market Indicator fell 6 cents to 1738c/kg clean, with brokers passing in 7.6 percent of the 39,585-bale offering.
The EMI in $US terms lost one cent to close at US1399c/kg clean, with the Australian dollar trading at US80.48 cents.
AWEX senior market Lionel Plunkett said at the beginning of the sale most wools were selling at discounted levels.
"The only notable exception was wools with very low mid breaks, which were attracting strong demand due to their scarcity.
"Inversely, the discounts for wools with high mid breaks quickly increased, as these types lost buyer support."
Mr Plunkett said as the sale progressed, buyer confidence slowly returned and wools which were previously being overlooked, started to attract stronger competition.
"Worth noting, any wools with a coefficient of variation of hauteur (cvh) or staple length of over 55pc continually reduced in price, as buyers struggled to average them into their purchases."
Mr Plunkett said the skirting market experienced an up and down week and prices generally fell by 20 to 40 cents on the first selling day, only to recover the losses on the second day, to finish generally unchanged.
The crossbred sector performed with mixed results, he said.
"The finer and broader edges managed to record small gains of 5 to 10 cents, the bulk of the offering however, was in the 26 to 30 micron range and these types slipped another 10 to 20 cents."
Mr Plunkett said the oddment sector lacked buyer confidence after the large losses of the previous few weeks.
"All types and descriptions were further discounted as the market struggled to find a level.
"Prices generally fell by 30 to 50 cents, sending the carding indicators down by an average of over 40 cents," he said.
"The last three weeks has seen the indicators drop by over 280 cents."
Market downturn seems to have halted
Australian Wool Innovation's weekly market report said the market downturn of the past two weeks seems to have halted across most types on offer.
"The market this week reflected more-so the operations of local buyers and reactions from overseas manufacturers almost immediately followed this stronger lead.
"Quite often the sale rooms are not the best identifier of global demand trends, but this week the positive sentiment of continuing and strong demand for Merino was borne out through that means," AWI said.
"Whilst China has been relatively quiet in enquiry and new business, other wool-buying destinations took the opportunity at the lower levels to execute some inventory purchasing.
"Operations appeared to return by weeks-end though as Chinese enquiry ramped up to normal levels."
AWI said some significant moves in the market were recorded this week, but not necessarily published.
"In a very small offering of ultra-fine Merino (finer than 16.6 micron) an extraordinary gain of around 160c/kg clean was made.
"A strong order from a high quality mill in China ensured those levels, giving intense competition and quite often outbidding the Italian orders, albeit in a very low volume scenario," AWI said.
AWI said improving market sentiment from the Merino fleece sector is likely to flow into the upcoming sales as demand signals get clearer once again.
In the next three weeks, about 40,000 bales per week are rostered, which is significant in that it is around 10pc less than that offered through February of last year, AWI said.
Click here for the latest AWEX Micron price Guides.
Sources: AWEX, AWI.