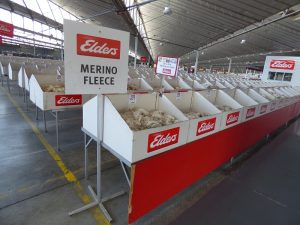 WOOL prices spiked again this week, with continuing strong pre-Christmas demand for Merino fleece and intense competition on Merino carding and oddment lines.
The Australian Wool Exchange said the Eastern Market Indicator rose 23 cents to 1699c/kg clean, with brokers offering 49,030 bales and passing in only 3.1 percent.
With the Australian-US dollar exchange rate falling 0.35 cents to US75.5 cents, the EMI in $US terms rose 11 cents to $US1283c/kg.
AWEX senior market analyst Lionel Plunkett said the auctions this week were the penultimate sales of the year, leaving only one buying week before the three-week Christmas recess.
"With the opportunity to fill orders diminishing quickly buyer interest became intensified.
"All types and descriptions across the entire Merino spectrum enjoyed increases in price as buyers fought hard to secure market share," Mr Plunkett said.
"Wools possessing favourable length and strength results continue to attract the greatest competition, this sale however even lots with poorer numbers managed to achieve similar gains."
With the AWEX EMI closing 10 cents above the record level achieved three weeks ago, growers are continuing to show willingness to sell at these levels, with more than over 97pc of Merino fleece wool being sold to the trade, he said.
The 17, 19 and 21 micron fleece Micron Price Guides, and the Merino Carding Indicators are at 100 percentile levels, and the 23 micron fleece MPG is at 99 percentile.
Global wool analyst Chris Wilcox, from Poimena Analysis, said the AWEX EMI and the carding indicators were at their highest-ever levels in nominal terms.
"The AWEX EMI has never been anywhere near 100 percent."
However, Mr Wilcox said the prices in real terms were similar to those of 2002 and "nowhere near" the real prices of 1988/89.
Skirting market moves into positive territory
Mr Plunkett said the skirting market also moved further into positive territory.
"Following a very similar pattern to the fleece, prices were continually pushed upward as buyers tried to secure quantity heading into the break.
"Main interest focussed on low vm, well measured wools but again all wools felt the effect of the rising market."
Crossbred price trend reversed
Mr Plunkett said the crossbred fleece sector this week managed to reverse its downward trend with solid gains.
"General price increases of 20 to 55 cents provided welcome news to growers of these broader types.
"The better prepared lines attracted the greatest buyer interest and as a result enjoyed the largest increases," he said.
Oddments attract intense competition
Mr Plunkett said the oddment sector attracted very intense competition.
"Locks, stains and crutchings gained 30 to 60 cents this week, resulting in the three carding indicators increasing by an average of over 50 cents.
"The Merino Carding indicators are at record levels for all centres."
Next week is the final sale of the calendar year, with just over 52,000 bales on offer nationally.
Click here to see the latest AWEX Micron price Guides.
Source: AWEX.