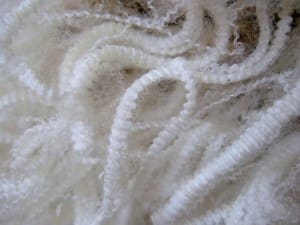 SUBSTANTIAL discounts will be applied to Australian wool from mulesed sheep "sooner than later" unless the industry implements a plan to phase out the flystrike preventative practice, according to Italian processors.
Italian Wool Trade Association board member Claudio Lacchio, said the demand for wool from non-mulesed sheep or sheep mulesed with pain relief is getting so strong and widespread that soon most brands and retailers might only use wool of these types.
"Definitely, it's already happening, as much as it's increasing the demand for wool of non-Australian origin, from producing countries where the NM declaration can be obtained."
Australian exporters have also told Sheep Central that orders for non-mulesed wool specifying that the wool not be sourced from Australia are increasing.
Mr Lacchio was head of the Italian delegation at the recent 85th International Wool Textile Organisation Congress in Sydney which asked the IWTO to release animal welfare standards, not guidelines, that advocated pre and post-surgical pain relief for mulesed sheep. The delegation argued that Australian wool industry bodies, including AWI, were not adequately acknowledging the non-mulesed wool demand issue.
Mr Lacchio said a significant portion of the greasy wool bought in Australia by China is re-exported to Europe either in tops or yarn state.
"So sooner or later this will become an issue as well – then I also believe China will gradually become more and more sensitive to this problem, and the meetings we held at the IWTO Congress in Sydney with some Chinese processors confirm this view."
Mr Lacchio said the retail sector preferred unmulesed wool rather than mulesed wool, even with the use of pain relief.
"Therefore, a policy of phasing out mulesing is preferred, with mulesing using anaesthetic seen as a transitional strategy.
"Australia should move quickly, I am of the idea that pretty substantial discounts will be applied sooner rather than later to mulesed wools."
Mandatory NWDs supported by the Italians
Italian processors support the proposed mandatory uptake of the National Wool Declaration to fully declare the mulesing status of all Australian wool clips.
"We fully support this move, obviously not much can be achieved in Australia through legislation, so large brokers and exporters should be the way to go.
"It remains unclear to us how, in the year 2016 and with all the push towards transparency and problems related to mulesing, not 100 percent of the wool sold at auction carries the NWD," Mr Lacchio said.
Based on AWEX figures, Australian non-mulesed wool supplier New Merino has calculated that the supply of non-mulesed wool (Ceased Mulesing and Non Mulesed) increased by 7pc in 2015/16 over the previous year and now comprised 9.2pc of total wool production.
New Merino calculates about 3100 of estimated 26,000 wool growers in Australia produce non-mulesed wool or have ceased the practice of mulesing. It said Australia produces 10,000 tons (clean weight) of non-mulesed Merino fleece wool; equivalent to about 75pc of South African total Merino production, 125pc of the Argentinian Merino clip and 100pc of New Zealand's total Merino output.
About 55 percent of first-hand bales offered at Australian auctions were declared using an NWD over the last 12 months, with only 10.9pc of wool declared as non-mulesed, 3pc as Ceased Mulesed, and 21.1pc as mulesed with pain relief.
Mr Lacchio said the attitude of Australian Wool Innovation in not informing wool growers of the extent of demand for non-mulesed wool or wool from sheep mulesed with pain relief, nor acknowledging the problem mulesing represented to the Australian industry, was "nothing new to us".
On its website, AWI says it has a proactive, intensive and committed research and development program in place to remove the need for mulesing over time, and to ensure the health and welfare of sheep in the interim. Mulesing combined with good animal husbandry practices cut flystrike rates to 1-3 percent and greatly improved sheep welfare, AWI says.
AWI says the Australian wool industry has introduced welfare-improved flystrike prevention practices and has fast-tracked research into management and breeding programs to reduce the risk of flystrike. It says while the 2010 target date to end mulesing has passed, many woolgrowers have already replaced traditional mulesing with welfare-improved practices.
AWI calculates the volume of "welfare friendly" Australian wool declared through the NWD as greater than the combined total fine wool production of South Africa, Argentina, New Zealand and Uruguay.
AWI's website also says the research, development and marketing body encourages retailers and brands seeking "welfare-friendly" wool to select from the non mulesed, ceased mulesing and pain relief categories, as declared on the NWD. This sends important market signals to woolgrowers to declare their wool, and to the Australian wool industry about demand for these types of wool, AWI says.
AWI says it has an ultimate, long-term goal is to remove the need for mulesing to prevent flystrike in Australian sheep through management and genetics, but the more immediate goal is to replace traditional mulesing (performed without pain relief) with welfare-improved practices including pain relief and non-surgical methods of removing breech wrinkle.
AWI should be driving force on NWD and market feedback
Mr Lacchio said AWI should be the driving force in informing growers of market preferences and in mandating NWD use.
"It is very much in the Australian growers' interest to know exactly and accurately what's going on in the world as far as where the demand is focused and what the retailers and above all the final consumers need and ask for," he said.
"AWI and any other organization representing the Australian growers should openly recognize that wool producers need to determine their own commercial destiny with the benefit of market information and intelligence, rather than an emotive response to radical animal rights lobbyists that by default, may constrain access to market opportunities."
Mr Lacchio said Italian processors recognised that mulesing is a must in some areas of Australia.
"But it can be done more humanely, as suggested in our IWTO motion, with the use of anaesthetic prior to the surgery.
"Also there are proven genetic and management practices, see what NZ is doing in this area, that wool producers can adopt to avoid the need to mules," he said.
"These are the concepts, in my opinion, the world textile industry is asking for, we all want to listen to proactive ways of addressing the animal welfare issue with a precise strategy to be implemented immediately, rather than tactics which have proven to be fairly unsuccessful over the last 10 years or longer.
"I believe Australian growers are losing a big chance of holding the leadership as first-class suppliers of the best wool in the world, with relation to animal welfare, which is an issue nobody can ignore at this stage," he said.
"There is already a premium in the market for NM wools, big or small, this is not for us to decide –but the market will, and furthermore other countries, traditionally selling their wools at lower prices for many reasons, are now in line if not above Australia simply, and this is my guess, for the mulesing story.
"In my opinion the immediate market response to mulesing will be to discount or reject mulesed wool rather than premiums for unmulesed wool," Mr Lacchio said.
"The medium term prospects is to elevate the discussion beyond 'mulesing' to one of 'animal welfare' and overall provenance, thereby transferring the issue from being a market liability to one of market opportunity."
Mr Lacchio said the IWTO was making progress with the preparation of Wool Sheep Welfare Guidelines into "specifications" rather than "standards", to be made public in a Dumfries Declaration next month.
IWTO wool welfare specifications 'a work in progress'
The IWTO's Wool Sheep Welfare Guidelines currently state that surgical procedures should be avoided wherever possible and should only be performed where there is a positive health or welfare benefit for the animal. The IWTO said this week its 'Wool Sheep Welfare Guidelines/Specifications' revision is focusing on trade and is currently a work in progress.
"We will finalize and approve the updated document at the Biella Wool Round Table in November 2016," a spokesperson said.
"Animal welfare, amongst other issues, will be on the agenda at The Dumfries House Conference September 9.
"As part of this event, The Campaign for Wool and the International Wool Textile Organisation will preside over the signing of The Dumfries House Wool Declaration," the spokesperson said.
"Custodians of the wool industry" will ensure a commitment to protect the environment, uphold the best possible practices for sheep welfare, growing, trading, manufacturing and selling wool, and wool-related products at all times.
"The Dumfries House Wool Declaration will agree, among other things, that the major wool growing countries conform to the strictest standards of animal welfare as embodied in the IWTO Specifications for Wool Sheep Welfare."
See http://www.iwto.org/events/upcoming-events/ for more details about The Dumfries House Conference. Further details about the release of the revised guidelines/specifications will become available closer to the IWTO Wool Round Table in November.