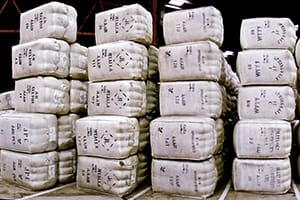 AUSTRALIAN wool prices closed generally lower in most sale centres this week, despite buyer confidence improving as sales progressed.
The AWEX Eastern Market Indicator closed 11 cents down to 1501 cents/kg clean, with the EMI in $US terms down 10 cents to US1123c/kg as the $A-US Exchange rate fell slightly to US74.84 cents.
Brokers passed in 10.8 percent of the 52,189 bales catalogued – the largest national offering in three months — and 9163 more bales than last week.
Only in Sydney did the Micron price Guides for fine Merino wool improve for the week, by 2-7 cents. The 26-28 micron crossbred MPGs improved 2-4 cents in Sydney and Melbourne.
Buyer confidence dipped in early sales
In the resumption of sales after the annual Easter recess, AWEX senior market analyst Lionel Plunkett said buyer confidence left the market on the first day.
All types and descriptions suffered corrections, generally between 10 and 40 cents, he said.
"The benchmark Eastern Market Indicator fell 17 cents to close the day at 1495 cents.
"Growers showed their resistance to accept the drop in prices and the national pass-in average in the fleece was over 15 percent," he said.
"However, towards the end of the day in the Fremantle market, buyer confidence slowly returned and in the last hour of selling there was a slow but noticeable rise in prices.
"The tone apparent in that last hour of selling was present from the first lot in Sydney and Melbourne on the second day and continued through to the final hammer in Fremantle."
Mr Plunkett said the EMI lifted by 6 cents on the second day of selling to close the week at 1501 cents.
"All types and descriptions regained some of the previous day's losses although generally the entire micron range recorded net falls for the week of between 5 and 30 cents."
Mr Plunkett said the skirting market closely mirrored the fleece market on the first day, with prices generally falling 20 to 40 cents and higher vm lots (>4pc) most affected.
"The second day saw prices rebound on average 10 to 20 cents with free or nearly free lots (<2.0pc vm) enjoying the largest gains."
Crossbred wool has a solid week
Mr Plunkett said the crossbred market had a solid week compared to the Merino sector, with all crossbred types trading within 5 cents of levels achieved at the previous sale.
"The oddment market also had a mixed week.
"Prices dropped on the first day, only to recover some of the losses on the second," he said.
"Sydney and Fremantle carding indicators recorded small gains for the week and Melbourne posted a 1 cent drop."
Next week just under 41,000 bales are expected to be offered in Sydney, Melbourne and Fremantle.
Click here for the latest AWEX Micron Price Guides.
Source: AWEX.