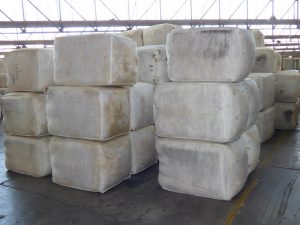 AUSTRALIAN wool growers have reacted strongly to a fall in prices this week, with more than 20 percent of fleece lines passed in at the Western Australian auction centre.
AWEX senior market analyst Lionel Plunkett said after recording eight consecutive weekly changes without a loss the market retreated this week.
"Another large national offering of just over 45,000 bales saw the benchmark Eastern Market Indicator drop 44 cents for the week to close at 1502 cents, the largest fall in the AWEX-EMI in almost two years," he said.
Brokers passed in 16.4pc of the 45,203 bale offering, but in Western Australia 30.2pc of Merino fleece lines and 26.5pc of crossbred lines were passed in, helping to give the centre an overall pass-in rate of 25.3pc. In Sydney 19.6pc of Merino fleece lines were retained for later resale and 15.4pc of Merino fleece lines were passed in at the Melbourne auction centre.
The EMI in $US terms fell 33 cents to US1151 cents clean, with the $A-US exchange rate at US76.61 cents, a weekly rise of 0.04 cents.
Mr Plunkett said no micron group escaped the price reductions with the entire Merino sector generally dropping between 40 and 90 cents.
"Although better style/spec types were least affected, they too were a good 20 to 40 cents easier than the previous sale.
"A high national pass-in rate in the fleece room of over 20pc prevented the market from falling further than it did as growers showed their reluctance to accept the drop in prices," he said.
"As the price of broader wools dropped more than the finer microns the price differentials between microns continues to widen.
"At the corresponding sale last season, the difference between an 18 micron and a 21 micron was only 85 cents, in just 12 months the price differential has blown out to over 720 cents."
Mr Plunkett said the skirting market performed along the same lines as the fleece with all types and descriptions experiencing large losses, generally between 40 and 60 cents, with again all types and descriptions experiencing similar losses. A limited offering of cardings was the only highlight in an otherwise bleak market with most types and descriptions selling at similar levels to the previous week, he said.
"Crossbreds followed the lead of the Merino sector and experienced corrections also, generally between 5 and 20 cents with the losses experienced across the entire crossbred range.
"Despite the fall in prices, next week's quantity continues to remain high with currently over 49,000 bales rostered for sale in Sydney, Melbourne and Fremantle."
Click here for the latest AWEX Micron Price Guides.
Source: AWEX.