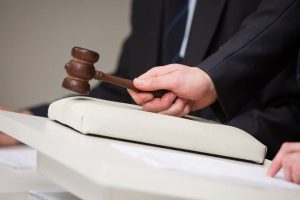 AUSTRALIAN wool prices slumped this week and the national auction bale pass-in rate almost doubled as growers opted to hold clips rather than sell.
Merino fleece prices fell generally by 60-90 cents and crossbred values fell 15-25 cents as auctioneers were unable to get bids sustaining last week's record levels.
The AWEX benchmark Eastern Market Indicator lost 48 cents to 2068c/kg clean, and with the $A-$US exchange rate lifting US0.82 cents to 73.44 cents, the EMI in $US terms fell 18 cents to US1519c/kg.
Annual Wool Week events in Melbourne limited eastern states' auctions to Tuesday and Wednesday and put the Fremantle auction in recess for the week.
AWEX senior market analyst Lionel Plunkett said brokers offered 29,691 bales, or 6611 fewer than last week, of which 10.8 percent were passed in.
"Despite the reduction in quantity, the market could not sustain the rapid upward momentum experienced during the previous sales.
"Buyers adopted a much more cautious approach, resulting in price corrections across the entire Merino spectrum," he said.
"The lesser style types and wools with less favourable additional measurement results were the most heavily discounted.
"Due to the price reductions, the benchmark Eastern market indicator (EMI) lost 48 cents off the record high it achieved at the previous sale, closing the week at 2068 cents (clean)," Mr Plunkett said.
"Worth noting, currency movement had a significant impact again this week, when viewed in $US, the EMI did not record the same large movements and only fell by 18 cents."
Mr Plunkett said the skirting market also tracked downward this week.
"Prices were generally reduced by 40 to 70 cents, with the losses felt across all types and descriptions, regardless of style or vegetable matter content."
Crossbred wools also suffered corrections, but not to the same extent as the Merinos, he said.
"The losses were generally 15 to 25 cents, all types and descriptions recording a similar fall."
Pass-in rate hits 37pc in Sydney – AWI
Australian Wool Innovation's weekly market report said the extensive gains of over 6pc in $A terms simply could not be sustained, and the market was cheaper from the first lot put up for auction.
"At times it was difficult for the auctioneer to actually extract an opening bid.
"Subsequently a much higher pass-in rate was seen, and in particular, the Sydney market commenced to pass-in rates within the Merino fleece sector as high at 37pc initially," AWI said.
"The EMI when expressed in $US was somewhat lessened by the impact of the movement of the forex (foreign exchange) rates used in wool buying and backed off to around half of the marginal easing that the $A prices took." The major adjustment this week though was seen on the Euro levels which moved levels almost 3pc lower week on week.
AWI said the less favourable forex rate of the $A versus the $US (upwards of 1.5pc as selling was underway) signalled the backward trend, but also some price sensitivity had been reached for the time being out of China as that market basically stopped any new forward contract orders for a few days.
"As the price backed off lower though, some fresh business was being written, as the factors that had elevated the wool price to where it was, hasn't changed.
"Those underlying factors still remain firmly in play and hasn't been altered at all," AWI said.
"There is still a dangerously low to almost empty pipeline of raw wool in front of first stage processors, as the current bull run in market levels has been ongoing for significantly longer than most would have predicted.
"Many manufacturers have stayed steadfast to the hand-to-mouth purchasing operation method that has been in play for many years now, which sees those users buying just in time to fulfil orders."
Global wool supply hampered by climate and meat demand
AWI said global wool production is being severely hampered at present by climate and high sheep and lamb meat prices.
"Availability of well-bred sheep to increase the wool sheep breeding flock is additionally hard to come by.
"When we see the drought's stranglehold released on landowners, the price of those replacement animals may well be too provocative to consider, given the amount of expenditure currently being exhausted on keeping each farm's core breeding stock in good health."
AWI said that given the combination of demand from the consumer and the similar to now-lowering wool supply facing processing machinery, it is hard to see what will break the back of the current cycle in prices that wool is experiencing.
"Yes, there are week to week inconsistencies, but the trend is firmly to the up-side and the severe movements presently gripping wool markets is indicative of both buyer and seller looking to try and establish and sustain their operations within the industry.
"If this means taking advantage of others' buying strategies, the selling methods or the spikes and falls in volume of supply, then it appears they are doing so, and thus creating the erratic movements."
Europe takes cream of clip offering
AWI said European buying continues and is continuing to take the cream of the offering.
"Even though the market looked all lower, those better specification types were not at all significantly lower, perhaps 10 to 20 cents is all that could have been taken off quotes for these better types."
Next week, all three auction centres are back in action with about 35,000 bales up for sale.
"This figure still remains far short of what is normally expected at this time of year in Australia."
Click here for the latest AWEX Micron Price Guides.
Sources: AWEX, AWI.