WOOL forward marketing was more active last week, as the auction market stabilised for most wool types after forming new seven-year lows the previous week.
Merino cardings lost 70 cents at auctions last week, causing the AWEX Eastern Market Indicator to remain flat. Most fleece types gained 10 to 20 cents as exporters jostled for the limited supply.
Demand remains patchy at best, with retail expectations frozen as we move though the next phase of the pandemic.
The forward market was a little more active with 60 tonnes — about 500 bales — hedged forward. All activity was targeted on the spring with the November the focal month for execution. The forward curve has flattened with trading at cash on the key 19 micron and 21 micron indices out to the end of November.
Buyers and processors are cautious, with the need to keep machinery running balanced by the build-up of stocks along the pipeline, as consumers remain either mentally or physically locked out of the supply chain.
We expect buyers to actively keep looking to cover their exposure, providing growers with ample opportunities to hedge forward. The rapid fall of last week has taken the discount out of the forward market.
We expect buyers will be looking cover modest quantities out to year end and potentially beyond at flat to cash as we are currently sitting on a long-term support level.
The graph below shows a 25-year price series for 21 micron. We currently sit at seven-year lows and represents the sixtieth percentile for that time period. How this plays out in the uncharted waters we find ourselves in is the big question. Some degree of insurance at these levels may be a prudent outcome.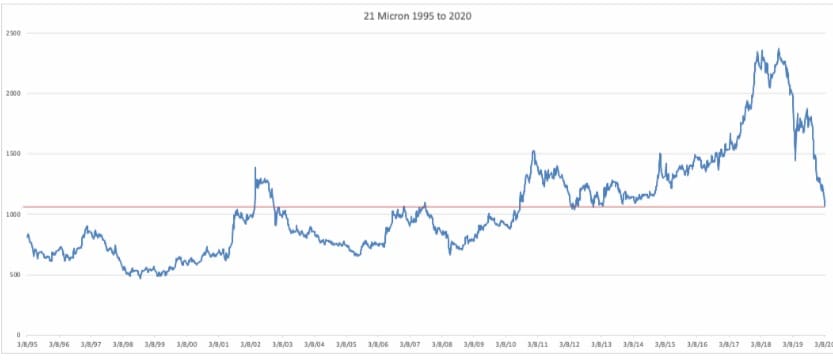 Anticipated trading levels this week
19 micron                             21 micron
Aug/Sept                                                          1140 cents                         1075 cents
Oct/Nov                                                           1140 cents                         1075 cents
Dec/Jan                                                            1130 cents                         1070 cents
Feb/Mar                                                           1120 cents                         1065 cents
Apr/May                                                           1120 cents                         1060 cents
Last week's trades
September 19 micron                                    1135 cents                         10 tonnes
September 21 micron                                    1070 cents                            5 tonnes
October 19 micron                                         1135 cents                            5 tonnes
November 19 micron                                     1135/40 cents                   10 tonnes
November 21 micron                                     1070 cents                          20 tonnes
November 28 micron                                      520 cents                              5 tonnes
November 30 micron                                     430 cents                             5 tonnes
Total 60 tonnes