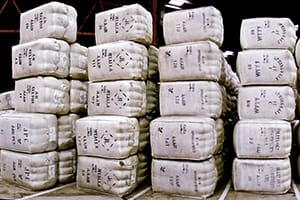 BETTER quality fleece, skirtings and carding wools continued to be in demand this week as the AWEX Eastern Market Indicator closed at 1249c/kg clean, just two cents down.
Brokers passed in 8 percent of the 43,434 offering in Sydney, Fremantle and Melbourne, with EMI in $US terms up 2 cents to 896 cents and the $A at US71.72 cents.
AWEX senior market analyst Lionel Plunkett said with there was very little change in the wool market this week with the EMI dipping 2 cents on a $A-US basis and rising 2 cents when measured in US dollar terms.
"However, digging deeper into the results gave a different perspective.
"Fleece wool, both Merino and crossbred were a drag on the overall result, while Merino skirtings and Merino carding types found good support and managed to limit the headline number to only a modest fall."
Mr Plunkett said the opening NZ catalogue gave an indication of a cheaper market when it sold in isolation on Tuesday – the better types maintained buyer support but the few lesser quality types were neglected.
"The weak lead from NZ flowed through into the Australian catalogues over the next two days, although there were variations across the three auction centres," he said.
"Melbourne was the most pessimistic, losing 5 to 10 cents each day.
"Sydney and Fremantle both commenced the week ahead before succumbing to the negative sentiment and easing on the final day."
He said the week-on-week results for Fremantle were affected by its comparison to the previous Wednesday.
Continued focus on better quality types
Mr Plunkett said the recent tendency for a focus on the better types persisted at this series.
"Most demand was on high strength, low mid-break types (which are at seasonal lows) at the expense of part-tender types."
Merino skirtings maintained consistent support in spite of the result in corresponding fleece types, he said.
"The second largest crossbred offering for the season weighed heavily on the sector and they fell by 10 cents.
"The Merino Carding Indicator bucked the trend observed elsewhere and lifted on the back of solid support."
Locks and crutchings carried the indicators around 20 cents higher.
Source: AWEX