THE spot wool market continued its march forward for the 12th consecutive selling day in auctions across Australia last week.
The steady rise that began in mid-May has turned into a charge forward in the three sale weeks of June. All Merino qualities have risen almost 10 percent over this period.
17 MPG                +223 cents          8.7pc
18 MPG                +212 cents           9.8pc
19 MPG                +168 cents          9.5pc
21 MPG                +113 cents          8.3pc
This has thrown the forward market into slight disarray with buyers and sellers grasping to find a fair value level. As illustrated in the table below, 19 and finer wools are now approaching or exceeding their 80th percentile for price over the last 11 years and are sitting on the highest level for two years.
How this will play out over the next few weeks is hard to judge. Predicting the run into the end of the season and the move into the seasonal supply in Spring is fraught with danger. We are in uncharted waters, with disruptive logistics in the supply chain, coupled with uneven stock levels and irregular demand stimuli. The result is likely to be continued volatility that will provide both opportunity and disappointment over the coming weeks.
Setting realistic targets into the Spring and Summer to provide some certainty will not be an easy task, but worth the effort to capture a good profit margin.
The weaker Australian dollar will hopefully see spot levels maintained next week and provide exporters with offshore demand to be able to deliver solid bidding levels on the forwards.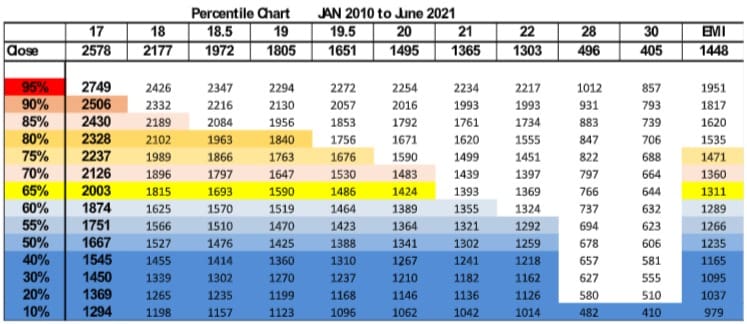 This week's trades
Dec 2021 17 micron                                       2400 cents                        2 tonnes
Source: Southern Aurora Markets.