TWO lucky Sheep Central readers have won a copy of ABC Books' entertaining and beautifully illustrated book, "Top Dogs: A celebration of great Australian working dogs."
The two winners drawn, following our recent reader competition are:
Molly, Charlie and Archie Walton from Wurrook South, Rokewood VIC and
Peter Rookyard, Woolandgidgee, Berrima, NSW.
Both lucky readers will receive their copy in the post in coming days.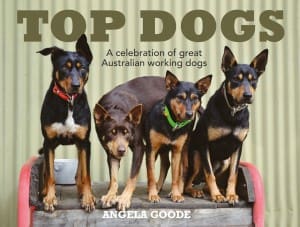 Ask anyone who lives and works on the land with livestock and they will tell you that a good working dog is the heart and soul of bush life.
Working dogs can't be downsized, upgraded, outsourced or made into an app. They are just top dogs – agile and energetic, heroic and hardworking, loyal and loveable.
In author, Angela Goode's joyous printed tribute to Australia's working dogs, people all over rural and regional Australia share their favourite stories and photos of the incredible dogs that make such a huge difference to their lives each day.
These cheerful workaholics are celebrated in tales of heroism, extraordinary intuition, unflagging dedication and intelligence.
Featuring 100 unforgettable photographs drawn from a nationwide competition on ABC Local Radio, and favourite true-life stories from Angela Goode's beloved bestseller Great Australian Working Dog Stories, Top Dogs is a celebration of these irrepressible four-legged companions who greet each day with enthusiasm and a wagging tail.
Hardback. ABC Books. Recommended retail price: $39.99. ISBN: 9780733333286. Available from ABC Bookstores and all good book retailers.