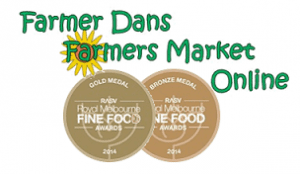 Success tastes sweet and smells good for Gippsland branded lamb producers Farmer Dan Drougas and his wife Cath.
Their Farmer Dan business is taking a relatively unknown sheep breed – Wiltshire Horns — to a new level with his branded lamb business, capitalising on the unique qualities of the breed's meat.
And the reputation of a gold medal in the Royal Melbourne Fine Food Awards is helping the business grow.
Farmer Dan's gold medal win in the branded lamb section for small producers in the awards last year has helped consolidate the product among customers.
They had won a bronze medal for his beef in the awards, but last year was the first time they submitted lamb. The Jack River-based operation markets grassfed lamb and beef, pork and smallgood products at Victorian farmers markets and through an online store across Victoria and South Australia.
Only branded Wiltshire Horn lamb
Mr Drougas believes they market the only branded lamb sourced from a Wiltshire Horn flock in Australia.
"We've been breeding them for about 10 years and couldn't understand why someone didn't sell them for meat.
"They've been used as a terminal sire or by stud breeders selling among themselves."
Wiltshire Horns is a shedding sheep breed normally kept by hobby breeders or used to produce crossbreds with other 'cleanskin' or terminal breeds such as the Dorper and Poll Dorset.
The Wiltshire Horn Sheepbreeders Association claims the hardy meat sheep has an ancient heritage that may date back to Roman times, with high quality meat and the ability to shed its wool eliminating the need for shearing, crutching and mulesing.
The association's website claims Wiltshire Horns are probably the only sheep that can be managed organically, either as a pure sheep enterprise or as part of another organic enterprise, because of the lack of need for chemicals in management.
Despite the obscurity of the breed, Mr Drougas said customers know the reputation of the fine food awards and now don't question the quality of his product when they see the gold medal sticker.
"It has certainly increased our business."
"We submit, beef and lamb and smallgoods, and across the board, our business has doubled annually over the last four years," he said.
"We're small farmers but we're doing better than most farmers in our situation, because we are value-adding.
"The customers we deal with, they are pretty discerning, and they recognise the fine foods awards symbol."
After winning the lamb gold medal last year, Mr Drougas said the Wiltshire Horn Sheepbreeders Association failed to take up his offer to help promote the breed, but members wanted to sell him lambs. They now buys lambs from contracted producers to keep up with demand and would like to develop the meat quality traits of the breed through Lambplan.
"Because the Wiltshire doesn't require any chemical treatment, mulesing or tail-docking, we can guarantee to our customers that the product that we've got is chemical-free."
Meat is sweeter, without the smell
He said the Wiltshire Horn meat is sweeter than lamb from other breeds and very tender. Wiltshire Horn lamb also doesn't have the odour associated with lamb when it is cooked.
"That's one of the things that stands out with customers.
"We have quite a few Asian customers and they stay away from lamb because of its smell,' he said.
"The Asians certainly don't like it.
"Yet we have a lot of Asian customers that buy our lamb because it doesn't have that smell."
Gold medal helped Dorper lamb business
Will Gwynn-Jones from the Remarkable Meat Co in South Australia said the business' gold medal win in the large branded lamb section in the Royal Melbourne Fine Food Awards last year had also re-affirmed his Dorper lamb product's quality to customers.
"I'll do it again, there is definitely no negative thing there."
His business is growing at about 20 percent annually.
"I've got a volume now that I've got to be careful that I don't grow too quick.
"It is important to do things like the awards to re-affirm to customers that your product is of a standard and competitive."
Mr Gwynn-Jones said the business has been selling whole hanging Dorper lambs into Melbourne retail outlets and in SA for the past four years.
"Melbourne is a really good market and it is definitely worth doing things like the awards because it is a great market and there are some brilliant butchers there who will stand behind a product."
He has contract lamb growers that supply from native and saltbush pastures.
"The supply (source) is pretty important to me and that's what drives it."
He said the retail butcher game is tough and butchers need a point-of-difference to be competitive.
"They need consistency – if they can't get consistency they lose interest fairly quickly.
"It gives them a point of difference and allows them to put a gold medal on their labels."
Fine Food Awards entries close May 29
Entries for the Royal Melbourne Fine Food Awards Branded Lamb competition closed on May 29.
Lamb classes include:
– Large producers of grass and grain fed lamb
– Boutique producers of lamb
– Saltbush lamb
The cost per entry is $130. The entry booklet and online entries can be found at
http://www.rasv.com.au/Events/RMFF_Home/RMFF_Entries/
For more information about the Royal Melbourne Fine Food Awards contact Ross Karavis on 03 9281 7435 or [email protected]