AUSTRALIAN agriculture tends to be its own worst enemy when it comes to thinking about the future.
The loudest voices are often from those looking to criticise, but the reality is the red meat industry has a lot to look forward to.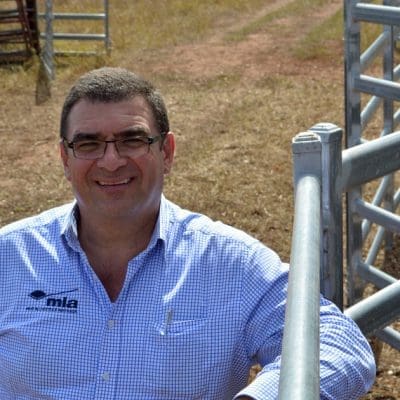 Meat & Livestock Australia managing director Jason Strong said the unfolding demand picture is lining up to a "three to five year period like we have never seen before."
Agriculture has largely powered through COVID-19 while most other sectors of the economy struggle. People still need to eat. And the vast majority of consumers around the world still love to eat red meat, despite the best efforts of vegans – ignoring plenty of science and evidence to the contrary – to convince them beef is bad for their health and the planet.
But one of the biggest hurdles Australian agriculture faces is not so much these external forces, but the lack of ability from within to believe in a positive outcome.
"One of our big problems to deal with is the general negativity in agriculture," Mr Strong said in an interview with Beef Central about MLA's new five-year strategic plan on Monday.
"The sky is actually not falling, but like any agricultural conversation you have, our default position has become 'I know it looks good, but it is going to be bad'.
'The only thing that is 100 percent right is that every prediction about the world ending has been wrong'
"The only thing that is 100 percent right in all of the disasters we have been through in the last three to four years is that every prediction about the world ending has been wrong."
Massive global protein shortage
Underpinning the positive outlook for red meat is the massive global protein shortage created by African Swine Fever.
The world is missing about 30 million tonnes of meat protein this year as a result of the destruction caused to pig herds across Asia and Europe since 2018.
ASF has devastated pork producers in those countries and is having an enormous impact on global meat markets as major importers such as China look to alternative sources of protein to try to fill the pork production deficit.
Export diversification protects against individual market setbacks
Australia's red meat sector also benefits from an extraordinary level of market diversification achieved over the past 10 years.
In 2010, more than 80 percent of Australia's beef exports went to the 'big three' – Japan, the US and Korea.
While those markets remain critically important in 2020, they now represent about 55pc of our total annual exports, reflecting the development of other important export markets such as China and other parts of Asia over the past decade.
The increased diversity means Australia's red meat sector is far better placed to absorb a significant setback in any single market, such as the current strain being placed on trade relations between Australia and China, which has affected exports there.
'There is something good in front of us'
There is "something good in front of us", Mr Strong said.
"We're lining up to a three to five year period like we have never seen before," he said.
"With this new (five-year) plan that is what we are trying to get to.
"It is a generational opportunity for us to really do something special as far as materially shifting the industry forward."
The new strategic plan that will guide MLA's investment strategy in the next five years takes effect from next week, Wednesday July 1.
Material changes to MLA's direction
Continuing the strategic shift to 'fewer, bigger, bolder' projects, the plan will create material changes at MLA in the next 12 months.
Over 400 projects are currently managed by the levy funded research and marketing body for cattle, sheep and goat producers.
That number is likely to reduce significantly under the new strategy toward fewer, larger projects aimed at ramping up levy expenditure impact.
By exactly how much remains to be seen. Mr Strong said there have been some "brutal discussions" so far.
He said the focus on "investing every dollar in the most impactful way" will also involve a constant cycle of review to assess projects and MLA being prepared to walk away from projects before time if the evidence shows a big idea turns out to be a bad idea or not likely to provide the intended outcomes.
The strategic plan also emphasises clearer adoption and extension pathways for all MLA programs to maximise the impact from investment.
"There is also the opportunity to take those things we invest in and not just understand or solve the issue, but look for ways for our industry to monetise this for greater profitability".
Value-based marketing
Asked for an example of the type of big picture project that may be focused on under the new plan, Mr Strong nominated objective carcase measurement and value-based marketing.
"There is a whole bunch of stuff we still have to do around solving that.
"We have been investing in that for 27 years, let's get it done," he said.
"There is plenty of fantastic work that has been done in that area, but we don't have systems that are used consistently across a broad range of the industry, to improve, create or capture value in the supply chain to provide better feedback, to provide better value opportunities.
"We have this angst between production and processing, but if we're creating and capturing value then those discussions should become easier, rather than I want some of your money, but I don't want to give you any of my money," Mr Strong said.
"They are two very different discussions, you have a commercial angst relationship, but I think what the industry is really interested in is a solution to being able to create identify and capture value that relates to the product we're producing."
Lower forecast budgets 'immaterial'
Forecast budgets included in the strategic plan document indicated that MLA is likely to have lower operating budgets to work with over the next five years, due to a smaller herd and the expectation of fewer transactions as producers retain stock to rebuild numbers.
Mr Strong said the total amount of money available to MLA should not matter – rather, "it is actually what we do with every dollar that we have."
"Having $275m versus $245m, whatever the numbers you want to look at, it is really an immaterial discussion," he said.
"It is more important to say, regardless of how much money we have got, are we putting it to the absolute best use that we possibly can and are we getting the absolute best value out that we possibly can in delivering for levy-payers.
"There's plenty of projects over the years where, if we were much more brutal about the assessment we were making about that project during the life of the project, we probably would have pulled up stumps on it and re-diverted the resources," Mr Strong said.
"So if we take that approach, then putting our money into the best and most impactful projects – highest and best use – how do you make sure you do that?
"Well you make sure you have a cycle of review so you are keeping on top of all the successive projects regardless of how long projects were supposed to go for, and it if it is obvious you are not going to get a result or there is new information that should make us reconsider, then let's reconsider," he said.
"We have to make sure we have enough to support the projects we have, and we have to manage our resources and all those things, but regardless of the amount we have to make sure we invest every dollar in the most impactful way."