GREAT Britain seems to have become the preferred location for record-breaking shearing efforts after Welsh shearers Gareth Daniel and Ian Jones set a new two-stand nine hour British lamb shearing record.
The two shearers put 1457 lambs across the board at Llysfasi Agricultural College in Ruthin, Denbighshire, last Friday, to set the first British tandem lamb shearing mark.
Daniel, 33, also set a new individual nine-hour British lamb shearing record of 781 lambs, beating the previous record of 537.
With Daniel's record tally and Jones, 36, contributing 676, they also beat the country's previous highest mark of 1317 ewes set by fellow Welsh shearers Nicky Beynon and Rhys Jones in July 2003.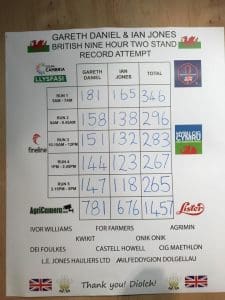 Daniel and Jones shore 346 lambs in the first run, 296 in the second, 283 in the third, 267 in the fourth and 265 lambs in the final run.
The Welsh effort of two British records in one day marked the latest in now four shearing records set in Great Britain in the past four weeks.
Earlier this month Irish shearer Ivan Scott, 35, set a new world record of 867 strongwool lambs – averaging 37.37 seconds a lamb or 96.33 lambs every hour — at Trefranck Farm, near Launceston, Cornwall. Scott, 35, from Kilmacrennan, County Donegal, beat the previous record of 866 set by Golden Shears champion and Hawke's Bay hearer Dion King in the central North Island of New Zealand in 2007.
Late last month New Zealand shearer Matt Smith smashed the world solo nine-hour ewe shearing record with a new tally of 731 in England. His was the first world shearing record ever attempted in the Northern Hemisphere and eclipsed the previous record of 721 set by Hawke's Bay gun shearer Rodney Sutton in a King Country woolshed in January 2007. Smith averaged a sheep shorn every 44.32 seconds or 81.22 sheep per hour.
World shearing records have previously been attempted in Australia or New Zealand rather than in the Northern Hemisphere.