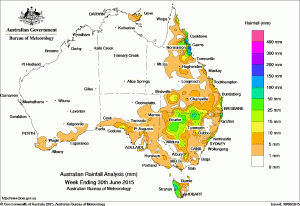 After last week's widespread rain it was a drier week across Australia, with the Northern Territory, nearly all of Western Australia, northern and central South Australia, most of Victoria, western Queensland, and remaining parts of New South Wales, and eastern Tasmania receiving little or no rainfall this week.
Rainfall totals between 50 mm and 100 mm were recorded on the north tropical coast of Queensland, in a small area on the southern Queensland and northern New South Wales border, and in northwestern Tasmania. Some locations on the north tropical coast of Queensland and in eastern New South Wales received weekly totals in excess of 100 mm. The highest weekly total was 212 mm at Tully Sugar Mill in north Queensland.

Rainfall totals between 10 mm and 50 mm were recorded over a large part of western and northern New South Wales, areas of southern Queensland, along some parts of the east coast of Queensland and New South Wales, in the north tropical coast and adjacent inland districts of Queensland, a small pocket of northeastern Victoria, across western Tasmania, and in a small area of the western coast of South Australia.
A low pressure system to the southwest of Tasmania extended a trough of low pressure across western Victoria and New South Wales at the beginning of the week. The trough produced moderate rainfall for western New South Wales. Moderate rainfall continued across northern New South Wales and southern Queensland as the trough tracked towards the eastern seaboard. Light rainfall was recorded in western Victoria, and along the coast and eastern parts of South Australia, with moderate totals over northern and western Tasmania and a large part of western New South Wales in a westerly airstream.
As the surface trough extending across eastern Australia moved offshore, light rainfall was recorded across the New South Wales central and northeast coasts, and parts of east coast Queensland between St Lawrence and the Wide Bay district. Light to moderate rainfall was also recorded across southern Western Australia and western Tasmania during the middle of the week as a cold front crossed the Great Australian Bight.
High pressure dominated much of the continent for the remainder of the week, while very moist onshore easterly winds brought moderate to heavy falls to the north tropical coast of Queensland at the end of the week.
Highest weekly totals in each State:
Source: Bureau of Meteorology