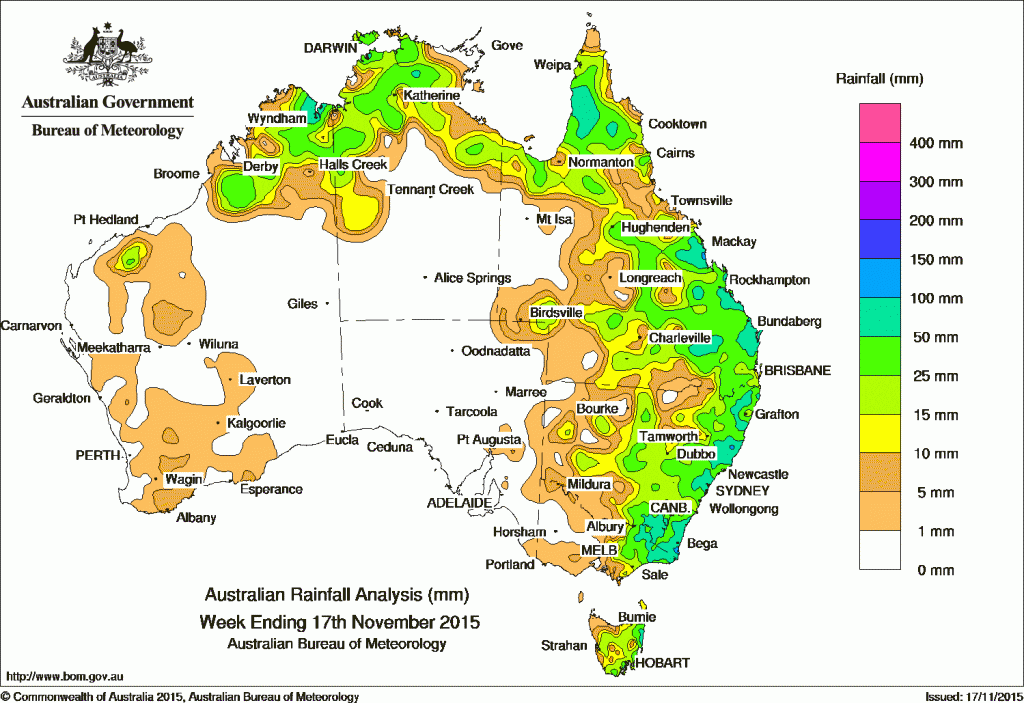 A broad surface trough located across northern Western Australia and the Top End produced a cloudband with embedded thunderstorms, bringing moderate falls to the Kimberley and to parts of the north tropical Queensland coast. The cloudband extended along a surface trough located through western Queensland, New South Wales and Victoria, with moderate falls forming to the east of the trough. Northeastern Victoria, East Gippsland and adjacent parts of southeastern New South Wales, areas of southwest Queensland, and parts of the Top End and the Cape York Peninsula recorded moderate rainfall totals, whilst light rainfall was recorded in parts of central New South Wales, and northern and central Tasmania.
During the middle of the week, surface troughs located across the north, and through central Australia, along with low pressure centres over Victoria and Tasmania generated areas of thunderstorms in central Queensland, central and southern New South Wales, and eastern Tasmania. Moderate rainfall totals were recorded in parts of the Cape York Peninsula and Northern Goldfields in Queensland, along with widespread moderate totals occurred across New South Wales, eastern Victoria and eastern Tasmania. The following day, falls continued in parts of the Top End, the Gulf Country, central and southern Queensland. Moderate to heavy falls continued along the east coast of New South Wales due to a low pressure centre deepening along the trough.
In the last part of the week, surface troughs continued to generate areas of cloud and thunderstorms over eastern Queensland and eastern New South Wales, along with thunderstorm activity across the Kimberley and the Top End. A weak trough along the west coast brought light rainfall totals to parts of the South West Land Division in Western Australia.
Rainfall totals in excess of 100 mm were recorded in small areas of the central Queensland east coast and eastern New South Wales. The highest weekly total of 169 mm was recorded at Yarras (Mount Seaview) in New South Wales.
Totals between 50 mm and 100 mm were recorded in parts of the eastern Kimberley; parts of the Top End; the Cape York Peninsula; eastern Queensland and parts of the Darling Downs district; the New South Wales east coast and far southeast; far eastern and northeastern Victoria and small areas of eastern Tasmania.
Falls between 10 mm and 50 mm were recorded in the Kimberley and an area in the Pilbara; much of the northern half of the Northern Territory; large parts of northern, eastern, central and southern Queensland; most of eastern New South Wales; the eastern half of Victoria, and most of Tasmania except the northwest.
Remaining parts of Western Australia, the Northern Territory and northwest Queensland, along with most of South Australia recorded little or no rainfall this week.
Highest totals in each State:
New South Wales and Australian Capital Territory
169 mm Yarras (Mount Seaview)
143 mm Comboyne (Public School)
132 mm Castle Cove (Rosebridge Ave)
Victoria
78 mm Mount Nowa Nowa
73 mm Combienbar Aws
70 mm Genoa (Fools Haven)
Queensland
129 mm Plane Creek Sugar Mill
118 mm Lovandee
105 mm Miva
Western Australia
109 mm Diggers Rest
90 mm Wyndham Aero
74 mm Mornington
South Australia
10 mm Oodla Wirra (Mccoys Well)
9 mm Bruce
5 mm Eden Valley (Mt Adam)
Tasmania
111 mm Gray (Dalmayne Rd)
101 mm Douglas River
78 mm Chain Of Lagoons
Northern Territory
84 mm Pinelands
83 mm The Chase
82 mm Csiro Berrimah
More weekly rainfall totals:
Source: BOM