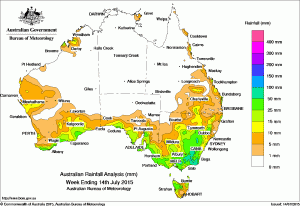 Rainfall over the past week was recorded along the coast of southern Australia, through southeastern Australia to parts of the east coast of Queensland, in Tasmania, the Kimberley, and part of west coast Western Australia.
At the beginning of the week, a strong cold front tracked eastwards across southern Western Australia, with moderate rainfall totals recorded around Albany, and light to moderate rainfall recorded across most of the south of Western Australia. Also early in the week, a trough extended across inland Western Australia to an area of low pressure in the western Kimberley, generating thunderstorms with moderate rainfall totals recorded near the coast.
Light to moderate falls were recorded in the north tropical Queensland coast in the first half of the week due to a moist onshore southeasterly airflow.
A cloudband formed ahead of a trough and cold front approaching the southeast during the middle of the week, with cloud then extending through much of eastern Australia. Light to moderate falls were recorded over several days across much of coastal South Australia, inland and on the Great Dividing Range in southern Victoria and through New South Wales to the south of the Highlands district in Queensland.
At the end of the week a low pressure system and an associated vigorous cold front tracked across southeastern Australia and southern Queensland. Light to moderate falls continued across much of the southeast, as the slow-moving complex low pressure system generated a cloudband, with embedded thunderstorms over parts of New South Wales. Heavier falls were recorded across central Victoria as well as in East Gippsland including parts of the Victorian Alps and the Snowy Mountains as the low driving the system deepened over the Tasman Sea.
Some light falls were recorded in the Gascoyne and southwestern Pilbara at the close of the week as a ridge of high pressure extending from southwestern Western Australia into central Australia generated a mass of cloud over the west coast.
Rainfall totals between 50 mm and 100 mm were recorded in East Gippsland, the Alpine region, and parts of central Victoria. The highest weekly total was 126 mm at Mount Baw Baw in the Victorian Alps.
Rainfall totals between 15 mm and 50 mm were recorded along the southern coasts of Western Australia, coastal South Australia, most of Victoria except the northwest, northern Tasmania, and large parts of southern and central New South Wales. Lighter falls were recorded in surrounding areas and also in small pockets of southern and central Queensland, the Kimberley, and the Gascoyne in Western Australia.
All of the Northern Territory, northern and western Queensland, much of Western Australia, much of South Australia, and parts of the northwest and northeast of New South Wales received little or no rainfall this week.
Highest weekly rainfall totals in each State:
New South Wales and Australian Capital Territory
99 mm
Bemboka (The Knob)
74 mm
Borenore (Lynden-Brae)
73 mm
Thredbo Village
Victoria
126 mm
Mount Baw Baw
105 mm
Falls Creek (Rocky Valley)
92 mm
Club Terrace
Queensland
36 mm
Noosaville
34 mm
Lady Elliot Island
31 mm
Rainbow Beach
Western Australia
57 mm
Cygnet Bay
48 mm
Walpole
42 mm
Warra Jarra
South Australia
70 mm
Wirrabara Forest
68 mm
Uraidla
64 mm
Piccadilly (Woodhouse)
64 mm
Crafers West
64 mm
Mount Lofty
Tasmania
47 mm
Jackeys Marsh
39 mm
Lorinna
39 mm
Mount Read
39 mm
Erriba (Jubb Road)
Northern Territory
11 mm
Alcan Minesite
11 mm
Gove Airport
8 mm
Nhulunbuy