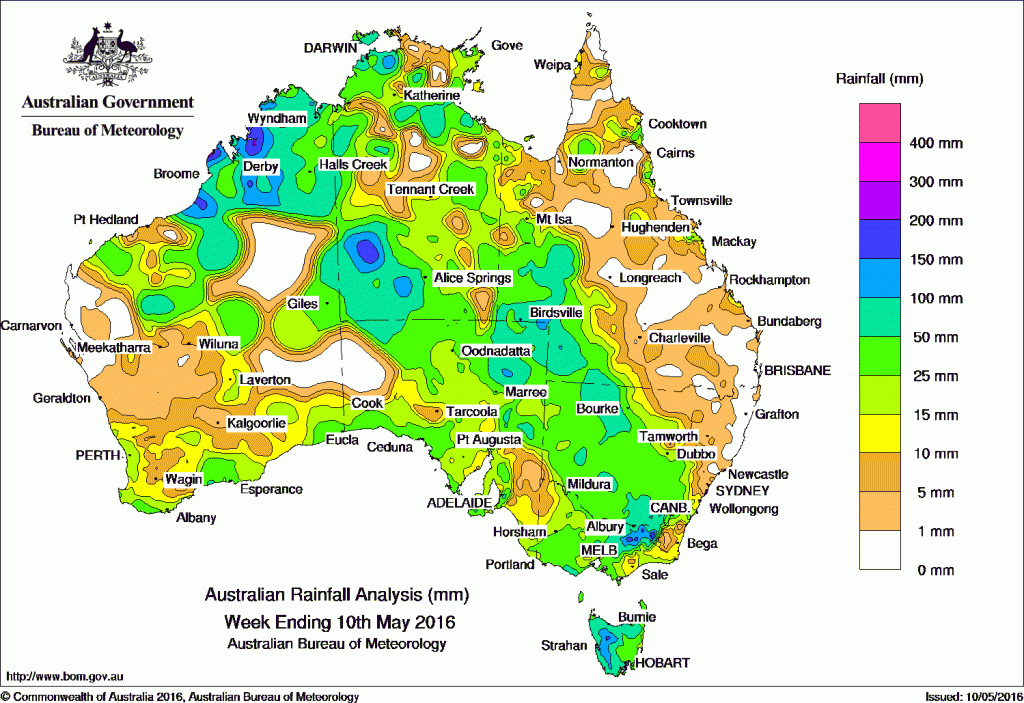 At the beginning of the week, a cold front embedded in a westerly flow tracked across the far southeast of the continent, generating moderate rainfall across Tasmania and light falls for parts of Victoria and coastal South Australia. Thunderstorms developed over parts of the Kimberley and the Top End in a humid easterly flow. A surface trough over Queensland produced isolated, moderate falls in the Gulf Country and along the north tropical, central and Capricornia coasts of Queensland.
From the middle of the week, a surface and upper-level trough off the northwest of Australia, combined with a developing cold front in the southwest, produced an extensive cloudband with embedded thunderstorms. Heavy rainfall was recorded in the Pilbara and Kimberley in Western Australia and southwestern parts of the Northern Territory. Moderate falls were also recorded in southwest Western Australia. As the cloudband moved eastwards, moderate falls were recorded in northern South Australia, southwest Queensland, western New South Wales and Victoria.
At the end of the week, an intensifying low pressure system and an associated cold front tracked eastwards across the Great Australian Bight and into southeastern parts. Moderate to heavy falls were recorded through southern parts of the Northern Territory, northern and eastern districts of South Australia, much of New South Wales and much of Victoria.
Rainfall totals between 50 mm and 100 mm were recorded in large parts of northern Western Australia, in the southwest and northern districts of the Northern Territory, parts of eastern South Australia and the western half of Tasmania. Similar totals were recorded in southwest Queensland and across the border into northwestern New South Wales, and in pockets of western and southeastern New South Wales.
Rainfall totals between 10 mm and 50 mm were recorded in southern and central Western Australia, much of South Australia except the northwestern and inland southeastern parts, most of Victoria and Tasmania. Likewise, similar totals were recorded in central and western New South Wales, western Queensland and through most of the Northern Territory.
Small areas of the far west and central interior of Western Australia, western areas and parts of the Murray Valley in South Australia, most of eastern Queensland and northeastern New South Wales recorded little or no rainfall this week.
Highest weekly rainfall totals in each state and territory
New South Wales and Australian Capital Territory
189 mm Thredbo AWS
167 mm Thredbo Village
137 mm Perisher Valley AWS
Victoria
202 mm Falls Creek (Rocky Valley)
179 mm Mount Hotham
176 mm Myrhee (Handcocks)
Queensland
97 mm The Monument Airport, Ballera Gas Field
82 mm Hungerford
Western Australia
165 mm Fossil Downs
138 mmCamballin
135 mm Mandora
South Australia
107 mm Lenswood Research Centre
79 mm Lobethal
74 mm Ashton, Uraidla
Tasmania
161 mm Mount Read
103 mm Lake Margaret Power Station
102 mm Savage River Mine, Queenstown (South Queenstown)
Northern Territory
200 mm Vaughan Springs
128 mm Wildman Rangers
104 mm Hermannsburg
More weekly rainfall totals:
Source: BOM