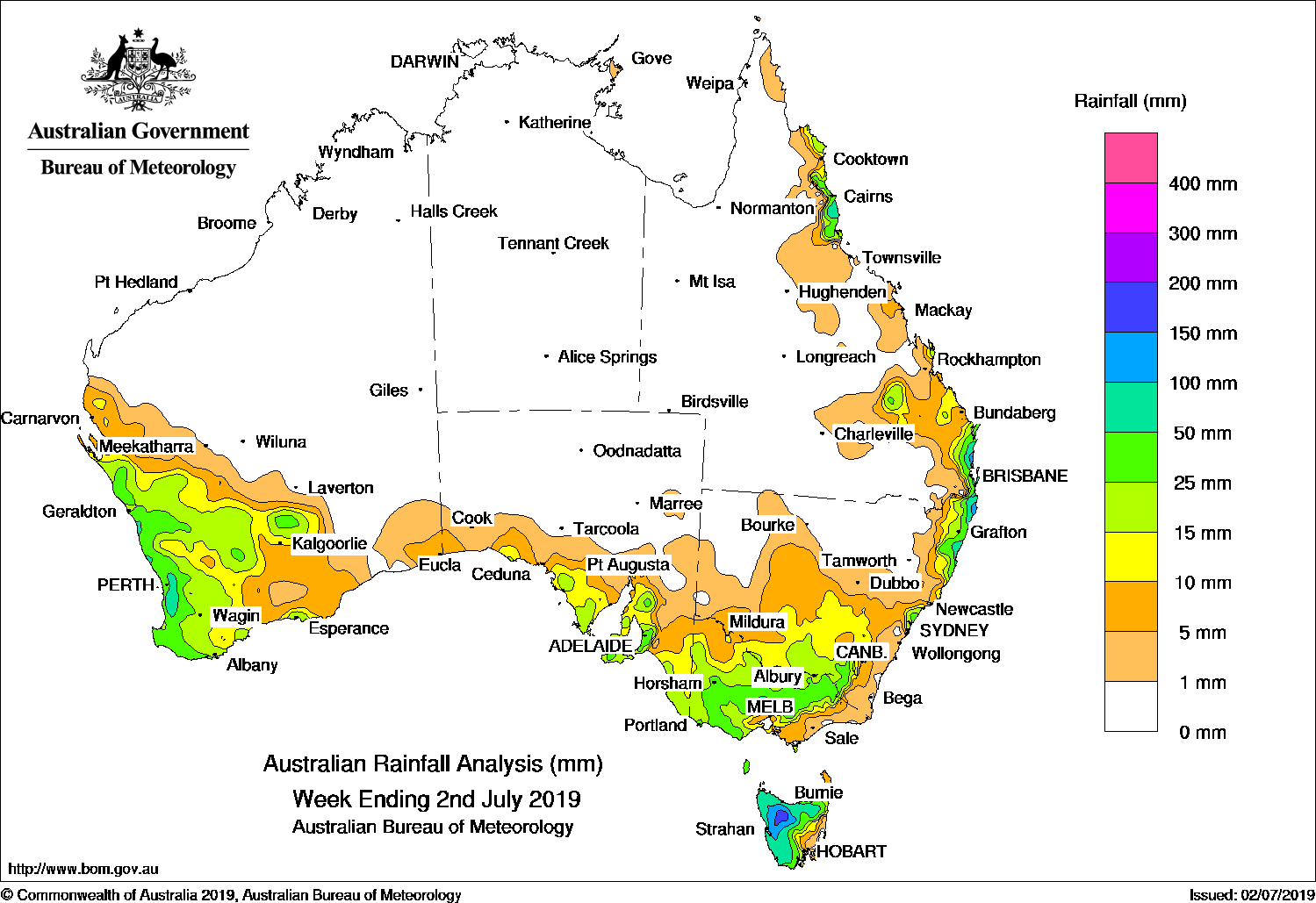 ONSHORE flow brought moderate falls to south-east Queensland and coastal New South Wales, while strong cold fronts produced moderate falls in the south-west and south-east of Australia.
Past seven days: At the start of the week, moist onshore winds combined with an upper-level trough and generated showers and moderate falls in south-east Queensland and the north-eastern to central coasts of New South Wales.
In the west, a trough and associated cloud band moved across the west coast to central Western Australia, ahead of a strong cold front and associated cloud band that tracked across southern districts of Western Australia. Cold, unstable air behind the front resulted in scattered thunderstorms with moderate falls over the much of the South West Land Division and parts of the Goldfields District.
As the strong cold front and cloud band tracked eastwards during the middle of the week, light to moderate falls were reported about the South Australian coast. As a low pressure system deepened in the eastern bight, embedded thunderstorms and rain developed over much of western, central, and north-eastern Victoria, southern inland New South Wales, and Tasmania as the cold front continued to track over south-eastern Australia, and the low moved south of Tasmania. Further moderate falls were recorded in western Tasmania as a number of fast-moving cold fronts tracked over that state at the end of the week.
Onshore flow produced moderate falls around the north tropical coast in the middle of the week, with isolated falls in excess of 50 mm recorded.
Rainfall totals in excess of 100 mm were recorded in small areas of coastal north-eastern New South Wales, coastal south-east Queensland, and western Tasmania. Isolated falls in excess of 150 mm were recorded in north-west Tasmania, including the highest weekly total of 172 mm at Mount Read.
Rainfall totals in excess of 50 mm were recorded in the north tropical and south-east coasts of Queensland, the northeast coastal strip of New South Wales, much of northern and western Tasmania, and some locations in the Alps and north central Victoria, southwest Western Australia, and about the Mount Lofty Ranges in South Australia.
Rainfall totals between 10 mm and 50 mm were recorded across much of the South West Land Division of Western Australia, extending into parts of the Goldfields District, agricultural regions of South Australia, much of Victoria away from the north-west and Gippsland, most of Tasmania except parts of the east, southern inland and the central to north-east coasts of New South Wales, and the south-east and north tropical coasts of Queensland.
Little or no rainfall was recorded in remaining parts of Western Australia, the Northern Territory, South Australia away from the coast, western and northern New South Wales, and Queensland away from the eastern coast.
Highest weekly totals
New South Wales and Australian Capital Territory
147 mm Clunes (Flatley Drive)
136 mm Ballina Airport AWS
134 mm Nashua (Wilsons River), Byron Bay (Jacaranda Drive)
Victoria
111 mm Falls Creek (Rocky Valley)
72 mm Mount Buller
71 mm Trentham
Queensland
143 mm Tewantin RSL Park
140 mm Caloundra Airport
126 mm Landsborough
Western Australia
96 mm Huntly
83 mm Mount WilliamMount Solus
South Australia
60 mm Uraidla
59 mm Piccadilly (Woodhouse)
57 mm Ashton
Tasmania
172 mm Mount Read
125 mm Queenstown (South Queenstown)
121 mm Lorinna
Northern Territory
2 mm Alcan Minesite
1.8 mm Gove Airport
0.6 mm Centre Island
Rainfall outlook: