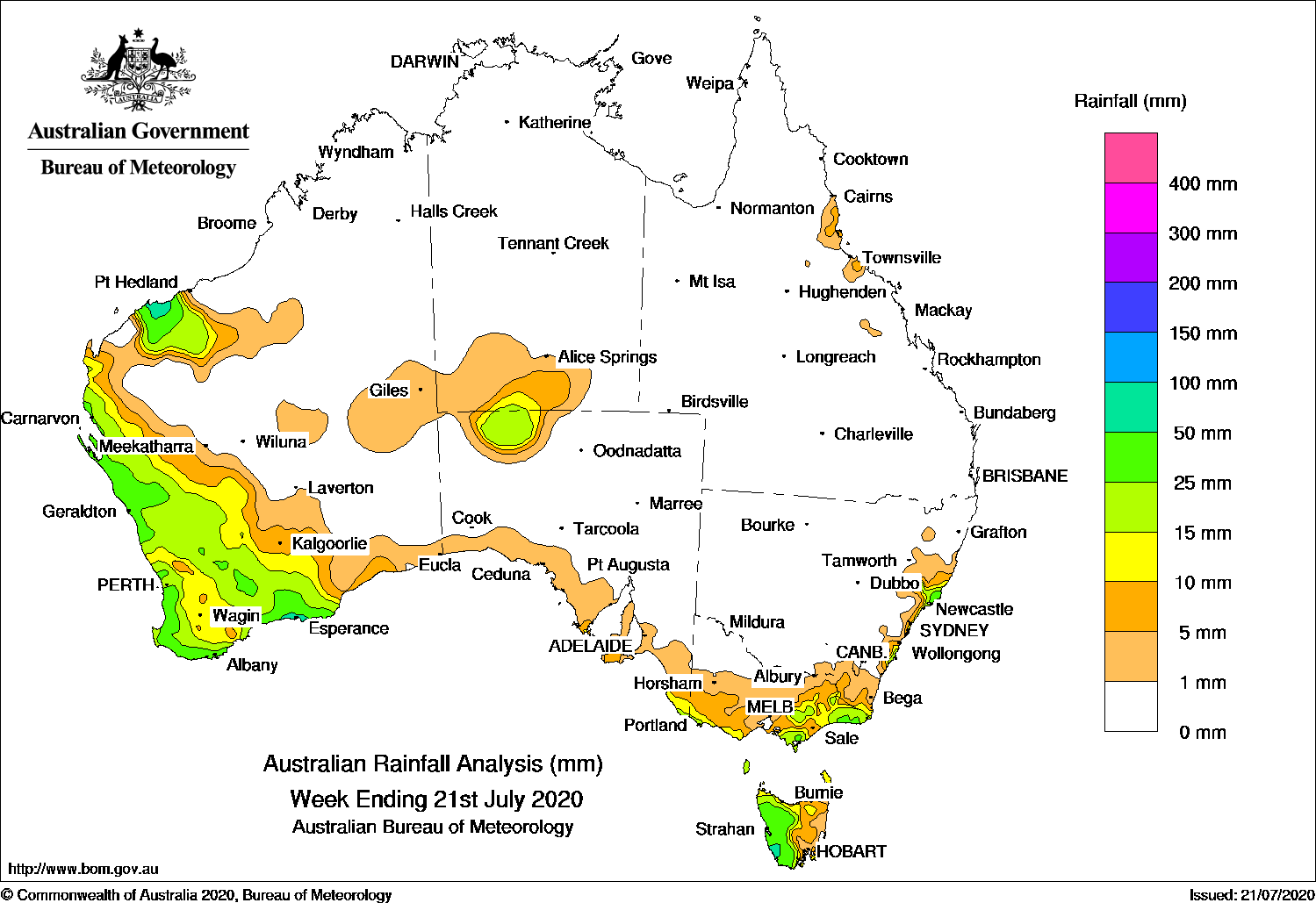 COLD fronts and a cloudband brought moderate falls to the west and south of Western Australia, while a cold front and a low pressure system produced moderate falls in south-east Australia.
Past seven days: At the start of the week, a deep low pressure system over the western Tasman Sea brought blustery winds, powerful waves, and moderate falls along parts of the New South Wales coast, and light falls across eastern Victoria. In the west, a weak fast-moving cold front brought light falls to the south-west and southern coasts of Western Australia.
In the middle of the week, a cold front and north-west cloud band tracked across western parts of  Western Australia, with widespread moderate falls recorded from the far west Pilbara coast to the south-east coastal district.
In the last part of the week, in the west, south-westerly onshore winds in the wake of the cold front brought mostly light falls in the south of Western Australia, with locally moderate falls near the coast. A mid-level cloud band extended from the Pilbara district to the state's interior and produced showers and thunderstorms, with moderate rainfall totals recorded. In the south-east, a pair of cold fronts tracked over southern South Australia, Victoria and Tasmania in quick succession, with widespread light falls reported across most of Victoria and moderate falls in western Tasmania.
The mid-level cloud band moved from the north-west over Central Australia, bringing thunderstorms and showers, with light to moderate falls reported through the interior of Western Australia, northern South Australia and southern parts of the Northern Territory. Moist onshore flow brought showers to the north tropical coast of Queensland at the end of the week.
Rainfall totals in excess of 50 mm were recorded in small areas of the Pilbara coast, and the south-west of Western Australia, small areas in the western Tasmania, and along the New South Wales coast. The highest weekly total was 67 mm at Mount Read in western Tasmania.
Rainfall totals between 10 mm and 50 mm were recorded in the Pilbara and across larges parts of western and southern Western Australia, an area in Central Australia, far south-east South Australia, southern and eastern parts of Victoria, western Tasmania and along parts of the east coast of New South Wales.
Rainfall totals of less than 10 mm were recorded in the Eucla coast, and the Southern Interior District in Western Australia, areas of the southern coast of South Australia, most of Victoria except in the north-west, eastern Tasmania, pockets along the east coast of New South Wales, and along the north tropical coast of Queensland.
Highest weekly totals
New South Wales and Australian Capital Territory
56 mm Smiths Lake (Patsys Flat Road)
52 mm Careys Peak (Barrington Tops)
48 mm Bulahdelah Post Office
Victoria
53 mm Balook
32 mm Mount Best (Upper Toora)
26 mm MarloClub Terrace
Queensland
10 mm Hawkins Creek, Cowley Beach (Defence)
7 mm South Johnstone Exp Stn
Western Australia
64 mm Dalyup Park
63 mm Ferguson Valley
62 mm Esperance
South Australia
19 mm Ernabella (Pukatja)
14 mm Mount Gambier Aero
13 mm Robe, Parndana CFS AWS
Tasmania
67 mm Mount Read
62 mm Lake Margaret Dam
56 mm Scotts Peak Dam
Northern Territory
6 mm Maryvale
3 mm Watarrka, Yulara Airport
Rainfall outlook