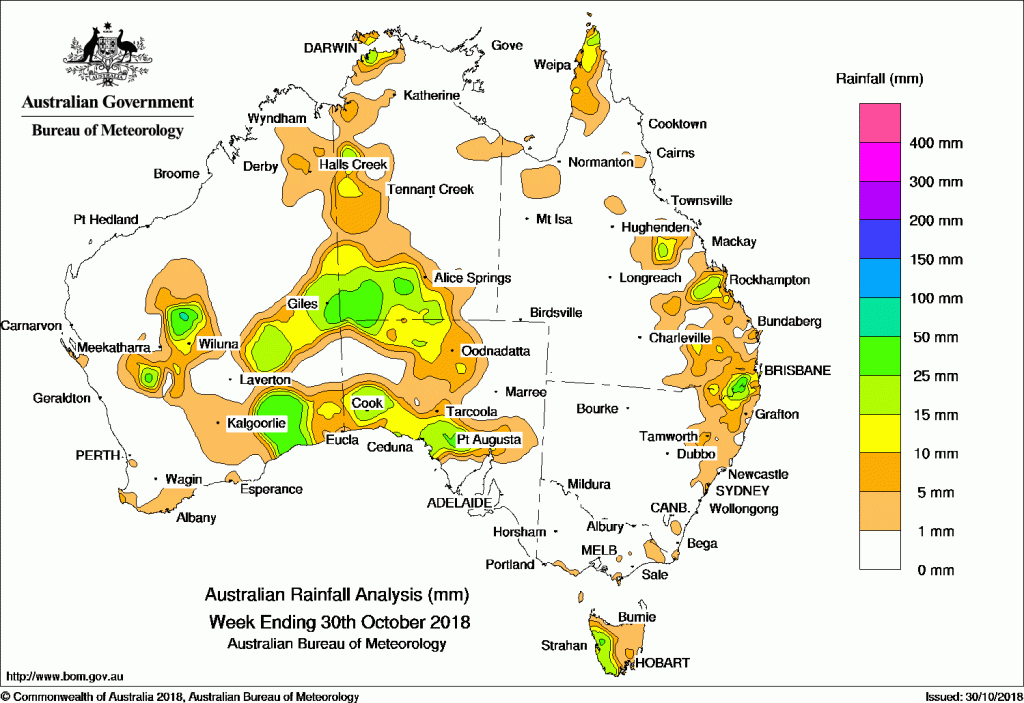 For today's 14-day rainfall outlook – scroll to bottom of article
Broad surface troughs produced showers and thunderstorms in central Australia and the east coast, while cold fronts brought moderate falls to western Tasmania.
Past seven days: At the start of the week, a cold front and pre-frontal trough tracked across southeast Australia, generating light falls across most of western Tasmania. A broad surface trough extended across western, northern and eastern Australia, with thunderstorms developing over the far north of Cape York Peninsula and parts of central Queensland. Due to a southerly surge interacting with the low pressure trough that extended through inland parts of Queensland, further isolated showers and thunderstorms formed over southeastern Queensland and the northern ranges of New South Wales. In the west and north, low pressure centers embedded in the surface trough generated thunderstorms over the central interior of Western Australia, the northwest Top End and western border in the Northern Territory.
By the middle of the week, extensive shower and thunderstorm activity occurred in the central interior of Western Australia and across the border over western parts of the Northern Territory and South Australia. A series of low pressure troughs interacted with a slow-moving upper level low over Western Australia, producing a cloudband with further showers and thunderstorms over Central Australia, southeast Western Australia, and the West Coast and northwest pastoral districts of South Australia.
In the last part of the week, a cold front crossed Tasmania and produced light falls in western, southern and eastern Tasmania. Isolated showers and thunderstorms continued through parts of Central Australia, and from the central coast of Queensland to northeastern New South Wales at the end of the week.
Isolated rainfall totals exceeding 50 mm were observed in a small area in the central interior of Western Australia, western Tasmania, and in parts of southeast Queensland. The highest weekly total was 57 mm at Queen Mary Falls in southeast Queensland.
Rainfall totals between 10 mm and 50 mm were recorded across the central interior and southeast of Western Australia; in western and southern parts of the Northern Territory as well as around Darwin; in northern and southwestern South Australia; western Tasmania; northeastern New South Wales; and the far north, central coast and southeast of Queensland.
Little or no rainfall was recorded in remaining parts of Western Australia; most of the eastern halves of the Northern Territory and South Australia; most of Queensland away from the southeast quarter and far northern Cape York Peninsula; New South Wales (excluding the northeast) and Victoria.
Highest weekly totals
New South Wales and Australian Capital Territory
42 mm Wilsons Downfall
34 mm Werris Creek (Yandilla)
33 mm Bonalbo Post Office
Victoria
5 mm Reeves Knob
4 mm Gelantipy, Mount Baw Baw, Wonthaggi
Queensland
57 mm Queen Mary Falls
55 mm Moogerah Dam, Glen Harding
Western Australia
36 mm Neds Creek
34 mm Eyre
31 mm Seemore Downs
South Australia
29 mm Mount Ive
27 mm Yardea
26 mm Hiltaba
Tasmania
56 mm Mount Read
25 mm Zeehan
20 mm Scotts Peak Dam, Savage River Mine
Northern Territory
44 mm CSIRO Berrimah
34 mm Bradshaw
32 mm Marrara
More weekly rainfall totals:
Rainfall outlook: