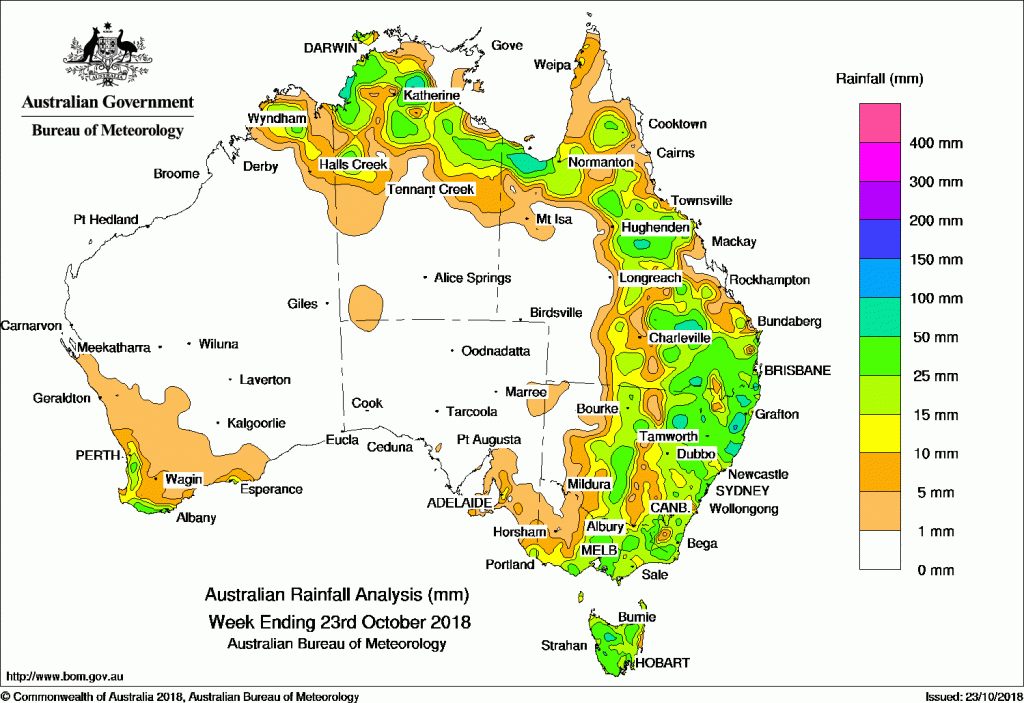 For today's 14-day rainfall outlook – scroll to bottom of article
Broad surface troughs across northern and eastern Australia produced moderate falls during the week, while cold fronts brought further falls to southeastern Australia.
Past seven days: At the start of the week, a surface trough with embedded low pressure systems extended from northern Western Australia through northern parts of the Northern Territory and Gulf Country, generating thunderstorms and moderate falls. The surface trough extended through eastern Australia, crossing central Queensland and inland New South Wales, connecting to a small low and associated cold front over Bass Strait. The associated cloudband and thunderstorm activity brought moderate falls to eastern Australia, including Tasmania.
The surface trough lingered over inland Queensland and New South Wales until the middle of the week, triggering further isolated thunderstorm activity through the central and southern interior of Queensland, and about the northeast and central coast of New South Wales. A westerly flow brought moderate falls to western Tasmania. In the west, a cold front and pre-frontal trough brushed the west coast and southwest Western Australia, with widespread light falls reported along the Gascoyne coast and the South West Land Division, and moderate falls near the southwest coast of Western Australia. Isolated thunderstorms developed along a broad surface trough in the northern Kimberley and parts of the northwest Top End.
In the last part of the week, a cloudband with active and vigorous embedded thunderstorms moved through the east of the country, driven by the cold front, which was now tracking over southeastern Australia, and the surface trough extending from southern Queensland, through central New South Wales, to eastern Victoria. Moderate falls were recorded across Queensland's Darling Downs and Granite Belt, parts of eastern New South Wales, and central to eastern Victoria. As the trough moved eastwards, further thunderstorms developed over southeast Queensland and northeastern New South Wales at the end of the week.
Rainfall totals exceeding 100 mm were recorded at isolated locations in both the Top End of the Northern Territory, and a few locations around northeastern New South Wales and southeastern Queensland. The highest weekly total was 195 mm at Yarras (Mount Seaview) in New South Wales.
Rainfall totals exceeding 50 mm were recorded in parts of the Top End and Gulf Country, isolated parts of southeastern Queensland and northeastern New South Wales, and small areas of northwestern Tasmania.
Rainfall totals between 10 mm and 50 mm were recorded in the northern Kimberley and coastal southwest of Western Australia; most of the northern half of the Northern Territory except Arnhem Land; the Gulf Country; most of eastern Queensland; central to eastern New South Wales; most of Victoria except the northwest; an area of southeastern South Australia; and most of Tasmania.
Little or no rainfall was recorded in remaining parts of Western Australia, the southern half of the Northern Territory, most of South Australia, southwest Queensland, western New South Wales, and northwestern Victoria.
Highest weekly totals
New South Wales and Australian Capital Territory
195 mm Yarras (Mount Seaview)
107 mm Meldrum (Coolawarrah)
101 mm Nymboida (Nymboida River)
Victoria
57 mm Mount Hotham
47 mm Kinglake WestFalls Creek (Rocky Valley)
Queensland
116 mm Mt Tamborine Fern St
102 mm Fort Lytton
90 mm Jondaryan Post Office
Western Australia
85 mm Bedford Downs Airstrip
48 mm Northcliffe
44 mm Ellenbrae
South Australia
28 mm Mount Lofty, Bridgewater, Uraidla
Tasmania
65 mm Mount Read
59 mm Mount Barrow (South Barrow)
50 mm Mount Arthur Summit
Northern Territory
171 mm Upper Waterhouse River
119 mm Central Waterhouse
99 mm Noonamah Airstrip
More weekly rainfall totals:
Rainfall outlook: