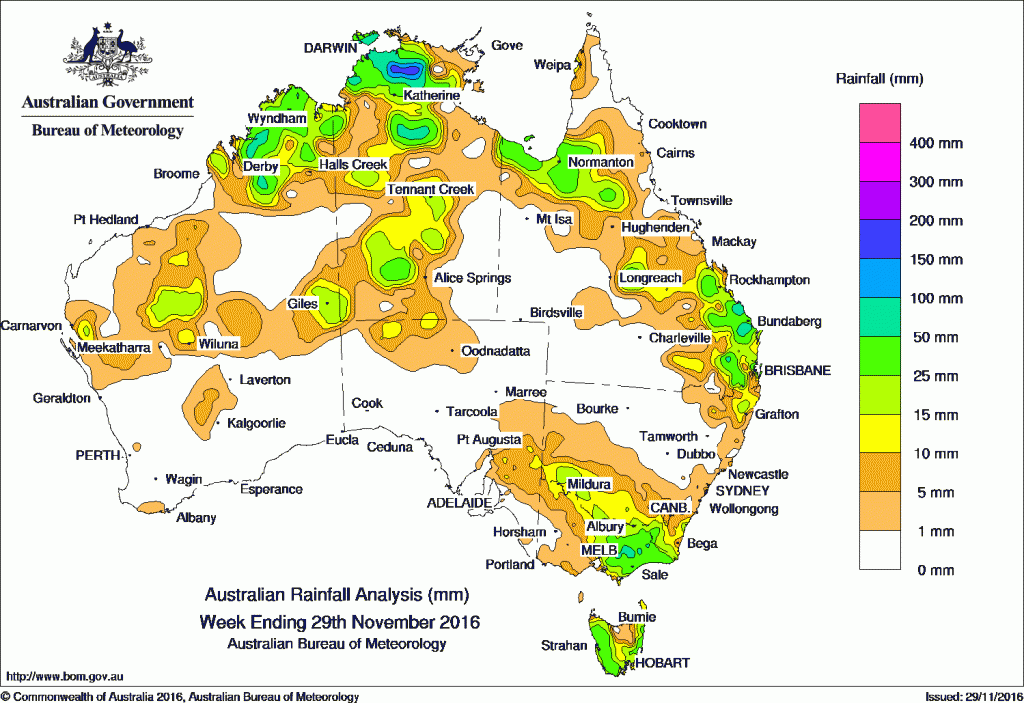 Today's 14-day rainfall outlook – scroll to bottom of article
For the week to 29 November 2016, rainfall was recorded in the Gascoyne, Pilbara, Kimberley and central interior districts of Western Australia; in northern and central parts of the Northern Territory; areas covering the Gulf Country; central and southeastern Queensland; northeast and southern New South Wales; northern and eastern Victoria, and most of Tasmania.
At the beginning of the week, an extensive cloudband and associated surface trough  moved east from central Australia, with a cold front crossing the southeast of the country. Showers and thunderstorms produced moderate falls in southern parts of New South Wales, central and eastern Victoria, and in Tasmania.
During the middle of the week, a weak cold front embedded in a southwesterly flow tracked across Tasmania. Light to moderate falls were recorded in western Tasmania.
Late in the week, thunderstorms and showers developed in the vicinity of an inland trough extending from northwest Western Australia to southeast Queensland. Moderate to locally heavy falls were recorded about the southeast and central coasts of Queensland.
Throughout the week, broad areas of low pressure lingered across northern Australia. Thunderstorms and showers produced moderate to locally heavy falls in central and northern parts of the Northern Territory, particularly around the Darwin–Daly region. Thunderstorms produced moderate totals in the Kimberley and small areas in the northern half of Western Australia.
Rainfall totals between 50 mm and 100 mm were recorded in areas of the western Kimberley and the Top End of the Northern Territory; and isolated pockets of the central and southeastern Queensland coasts; in areas along the Great Dividing Range in eastern Victoria and an isolated area of western Tasmania. Isolated totals in excess of 100 mm were recorded in southeastern Queensland, and in central parts of the Top End, including the highest weekly total of 283 mm at Central Arnhem Plateau in the Northern Territory.
Rainfall totals between 25 mm and 50 mm were recorded in the Kimberley in Western Australia; in the north of the Northern Territory and a pocket in the south of the Territory, scattered areas along an arc between northwest and southeastern Queensland, and across most of eastern Victoria and western and east coast Tasmania.
Rainfall totals in excess of 10 mm were also recorded in parts of the Gascoyne, inland Pilbara and southern interior of Western Australia; across large parts of the Northern Territory, surrounding higher falls in Queensland and across southern New South Wales and the Victorian border, central Victoria, and central Tasmania.
Little or no rainfall was recorded in remaining parts of Western Australia, the Northern Territory and New South Wales, most of South Australia, western Victoria, northeastern Tasmania, and western and northern Queensland.
Highest weekly totals list and map
New South Wales and Australian Capital Territory
47 mm Thredbo Village
46 mm Upper Darkwood
43 mm Thredbo AWSCoaldale (Bellona)Perisher Valley AWS
Victoria
66 mm Mount Tamboritha
65 mm Reeves KnobMount Hotham
Queensland
122 mm Makowata
119 mm Clontarf
108 mm Childers South
Western Australia
115 mm Kimberley Downs
74 mm Theda
67 mm Kalumburu
South Australia
12 mm Whyte YarcowieAuburnYongala
Tasmania
80 mm Gray (Dalmayne Rd)
79 mm Mount Read
49 mm Bicheno (Council Depot)
Northern Territory
283 mm Central Arnhem Plateau
202 mm Shoal Bay
184 mm Mary River Rangers
More weekly rainfall totals:
Source: BOM