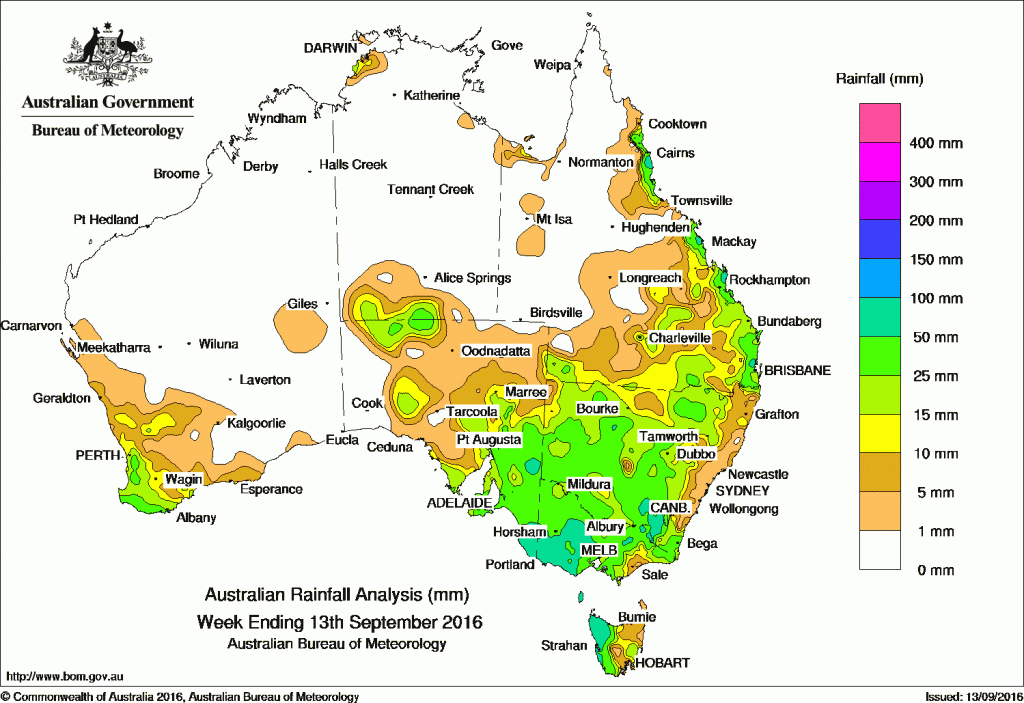 Today's 14-day rainfall outlook – scroll to bottom of article
Western Victoria and Southern NSW received the highest totals in another week of widespread rain for Southern Australia.
Past seven days: A pair of cold fronts tracked across southwest Western Australia and the Great Australian Bight, bringing mostly light falls to the South West Land Division, with moderate falls reported on the southwest coast. A moist onshore flow produced moderate falls along Queensland's north tropical, central and southeast coasts. During the middle of the week, a cold front and associated low pressure centre tracked across southern Australia, then deepened and developed into a complex low while moving through eastern parts of South before continuing across Bass Strait. The system also connected to a surface trough extending northward, which tracked through Central Australia into eastern Queensland as the system progressed. The complex low and troughs brought moderate to locally heavy rainfall to southeastern South Australia, much of New South Wales and Victoria, southern Queensland and western Tasmania. Further north, thunderstorms produced moderate falls in isolated parts of the Darwin–Daly in the Northern Territory. At the end of the week, a surface and middle level trough, and an associated cloudband brought moderate falls to an area from southern parts of Northern Territory and northwest South Australia to western Victoria.
50mm-100mm: Northeast pastoral district and southeast South Australia; southwest, central and northeastern Victoria; northwest Tasmania; the Snowy Mountains in New South Wales; and in isolated pockets of the east coast of Queensland. The highest weekly total was 100 mm at Grampians (Mount William) in Victoria.
10mm-50mm: Southwest Western Australia, in central Australia, parts of the northwest pastoral district and across most of the southeast of South Australia, most of Victoria apart from the small part of East Gippsland, and in western and southeast Tasmania. Similar totals were recorded across most of New South Wales west of the Great Dividing Range, southern and southeast Queensland and along much of Queensland's east coast south of Cooktown. An isolated part of the Darwin–Daly region in the Northern Territory recorded rainfall totals of up to 20 mm.
Little to no rain: Remaining parts of Western Australia, most of the Northern Territory, in the west, central and north of Queensland, and parts of western and far northeastern South Australia.
Highest weekly totals:
New South Wales and Australian Capital Territory
91 mm Cabramurra Smhea AWS
62 mm Tooma (Eudlo), Junee Treatment Works
Victoria
100 mm Grampians (Mount William)
79 mm Whitlands (Burder's Lane)
78 mm Daylesford
Queensland
93 mm Samuel Hill Aero
84 mm Wamuran
80 mm Russell River
Western Australia
57 mm Walpole
55 mm Walpole Forestry
42 mm Karnet
South Australia
73 mm Nangwarry Forestry SA Depot
71 mm Kalangadoo
66 mm Penola Post Office
Tasmania
83 mm Luncheon Hill (Forestry)
82 mm Mount Read
69 mm Lake Margaret Power Station
Northern Territory
21 mm Elizabeth Valley
19 mm Kulgera
16 mm Dum In Mirrie Airstrip
More weekly rainfall totals:
Source: BOM