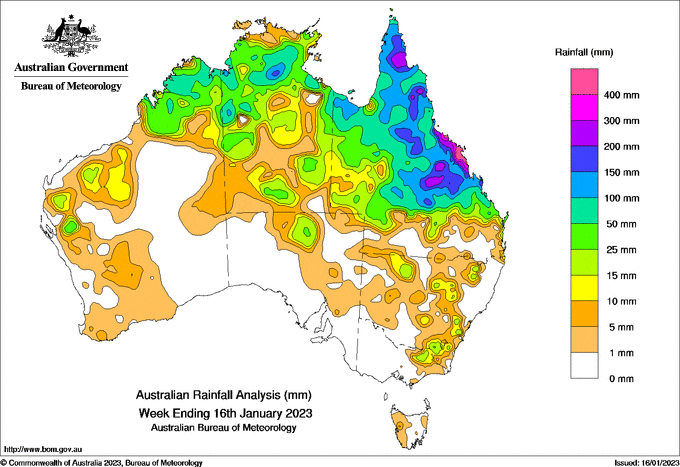 A LOW pressure trough resulted in thunderstorms and locally heavy showers across northern Australia, and onshore flow produced moderate to locally heavy rainfall in north-east Queensland.
Weekly totals greater than 100 mm were recorded in large parts of Queensland; within these there were regions that received more than 200 mm for the week, while large areas in the Central Coast district received more than 400 mm. Weekly totals greater than 100 mm were also recorded in northern pockets of Northern Territory.
The highest weekly total (at a Bureau gauge) of 704.0 mm was recorded at Mount Jukes, Qld; the highest daily total this week was 316.6 mm at Proserpine Airport, QLD, to 9am on the 16th.
Weekly totals between 50 mm and 100 mm were recorded over parts of the Kilmerley in Western Australia and northern Northern Territory, and in large parts of Queensland.
Moderate to Major flood warnings are current for rivers across western New South Wales, Victoria and South Australia; Moderate flood warning for Fitzroy River in the northern Western Australia; Major flood warning for Georgina River and Eyre Creek in eastern Northern Territory and adjacent parts of northern Queensland; Minor to Moderate flood warnings in many catchments in eastern and central Queensland.