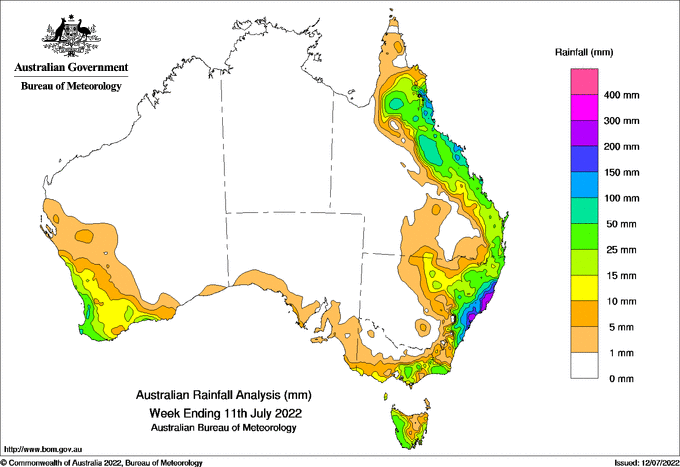 AT the start of the week, an east coast low off the New South Wales coast, that had already brought heavy rain from the Hunter Valley to the Illawarra region, decayed into a trough and moved northwards to bring further heavy rain.
Significant flooding occurred in catchments, from the Illawarra to the mid-north coast, still saturated from extreme rainfall earlier this year.
Many sites from Sydney to the mid-north coast set July daily rainfall records, with weekly totals of 150-300 mm.
The highest weekly total for the 5-11 July period at a bureau gauge was 389.8 mm at Taree Airport AWS.
Taree Airport AWS recorded 305.0 mm in the 24 hours to 9 am 7 July, the highest daily total ever reported (for any month) in Taree since observations started in 1881.
There were weekly totals of 50-100 mm, with higher totals locally, along the eastern Queensland coast from a cloud band early in the week, over 5 times the July monthly average for much of the gulf country and northern goldfields.
Weekly totals of 25-50 mm for were recorded in coastal areas of south-west Western Australia, western Tasmania and East Gippsland in Victoria from the passage of cold fronts, with some sites in south-west Western Australia recording up to 90 mm.