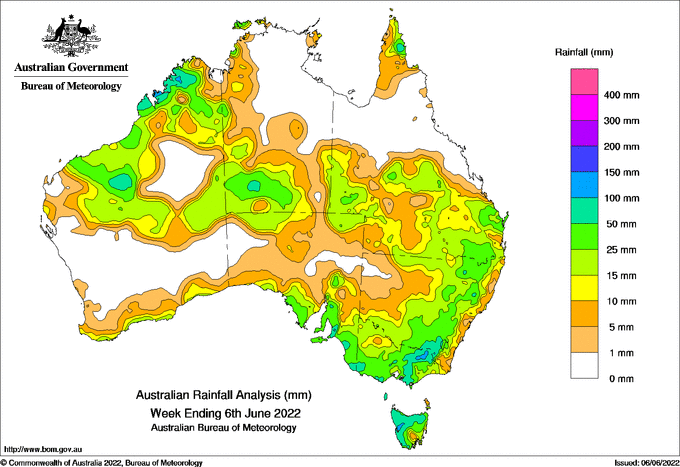 A SUCCESSION of cold fronts during the week resulted in widespread rainfall across south-eastern Australia, with weekly totals of 25–50 mm in many areas.
Weekly totals of 50–100 mm were recorded in alpine areas, northern and western Tasmania and some western-facing coastal areas of South Australia and Victoria, and alpine areas recorded over 50 cm of snow in places during the week.
Early in the week, a north-west cloud band resulted in falls of 25–50 mm in the Pilbara and central Australia, with isolated high totals on the Kimberley coast.
Later in the week, an inland trough brought 25–50 mm of rain to inland areas of north-eastern New South Wales and south-eastern Queensland.
At the end of the week, a strong cold front crossed over Adelaide and the Mount Lofty region bringing heavy rainfall and some flash flooding, with totals of 50–90 mm recorded in the Adelaide Hills in the 24 hours to 9am 5 June.
In the 24 hours to 9am 6 June, totals of 60–80 mm were recorded in north-eastern Victoria, with Minor flood warnings issued for the Kings River.
The highest weekly total (to 9am 6 June) was 145.2 mm at Ashton and the highest daily total was 89.0 mm at Uraidla on the 5th, both in the Adelaide Hills.